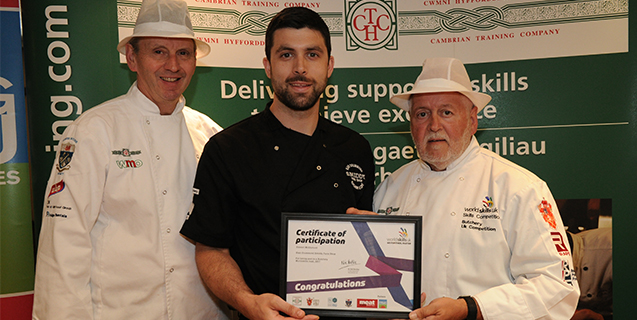 The fourth and final winner of the Worldskills butchery competition has been named.
Stewart McClymont, from Blair Drummond Smiddy Farm Shop, near Stirling, won the Scottish heat of the competition. This is the first time the competition headed to Scotland in it's three-year history.
The three previous heats were won by: Dylan Gillespie of Clogher Valley Meats who won in Northern Ireland; James Taylor of Simpsons Butchers was the winner of the Leeds heat; and Jake Laidlaw from Andrews Quality Meats won the heat in Wales. Just because they won their heats does not mean they will automatically qualify for the grand final at Birmingham's NEC later this year. The six butchers who receive the highest scores, to be revealed in August, will make it the final at the Skills Show.
To win his heat, McClymont had to seam a topside of beef in 45 minutes, followed by creating an innovative and cookable barbecue display in one hour and 30 minutes. To complete this second task, he was provided with one whole chicken, a topside of beef, shoulder of Welsh lamb and boneless loin of pork.
The Worldskills competition is organised by training provider, Cambrian Training Company, who thanked the Scottish Craft Butchers for hosting the Scottish heat.
Meat Trades Journal is the exclusive media partner for the competition, with sponsors including the National Federation of Meat and Food Traders, the Institute of Meat, the Food & Drink Training and Education Council, Hybu Cig Cymru – Meat Promotion Wales, and industry consultant Viv Harvey.
Stay tuned for Worldskills updates coming soon.