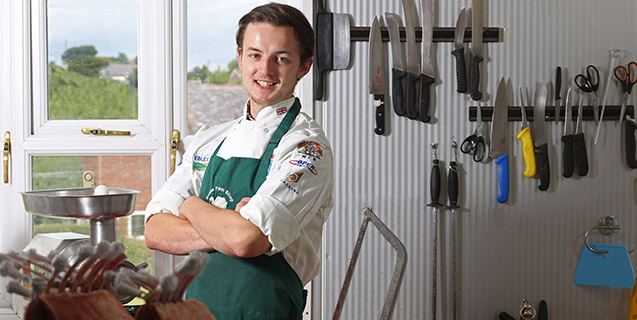 Champion butcher Peter Rushforth has not looked back since choosing an apprenticeship instead of going to university.
Last year, Peter, 22, from Leeswood, won a WorldSkills UK gold medal for butchery, the Meat Trades Journal Young Butcher of the Year title, represented the UK in a European Young Butchers Competition and was runner up in the Premier Young Butchers contest.
This year, the former Welsh Young Butcher champion secured a Meat Promotion Wales/Hybu Cig Cymru scholarship to study beef forequarter and related products in the United States and was named Higher Apprentice of the Year by his training provider, Cambrian Training Company.
Now he has been shortlisted to become Higher Apprentice of the Year at the prestigious Apprenticeship Awards Cymru ceremony to be held at the Celtic Manor Resort, Newport on October 20.
Jointly organised by the Welsh Government and the National Training Federation for Wales (NTfW), the coveted awards are sponsored by Pearson PLC and supported by media partner, Media Wales.
Thirty star learners, employers and learning providers involved in the delivery of successful skills programmes across Wales have been shortlisted for the Apprenticeship Awards Cymru.
The Apprenticeship Programme is funded by the Welsh Government with support from the European Social Fund.
The awards are designed to showcase and celebrate the outstanding achievements of learners, employers, tutors and assessors who have excelled in contributing to the development of the Welsh Government's Traineeships and Apprenticeship programmes.
Peter started working at Swans Farm Shop in Treuddyn, near Mold at weekends when he was 15 and jumped at the chance to pursue an apprenticeship there when he left school with nine GCSEs and three A levels.
He has progressed from a Foundation Apprenticeship in Meat and Poultry Industry Skills to a Higher Apprenticeship in Food Manufacturing Excellence, which he completed earlier this year.
Peter, who is now in demand as a butchery demonstrator both in the UK and internationally, said: "The Higher Apprenticeship has really helped catapult my business understanding into another league.
"My apprenticeships have opened doors to many opportunities, such as competitions, I've developed my skills tenfold and they have motivated me to expand my skillset to be the best."
Clive Swan, owner of Swans Farm Shop, said: "Peter is the epitome of everything the Apprenticeship Programme stands for."
Praising the standard of applicants this year and congratulating Peter on being shortlisted for an award, Skills and Science Minister, Julie James said: "This year's shortlisted entrants include exceptional individuals who have excelled in their workplace and learning providers and employers that have gone the extra mile to support the apprentices they are working with. Their stories never cease to amaze and inspire.
"Apprenticeships and vocational skills training are essential ingredients of economic success and vital tools in building a stronger, fairer and more equal Wales.
"These awards provide a perfect platform to celebrate success and reward the hard work and dedication of learners, employers and training providers across Wales. I wish everyone the very best of luck for the night."