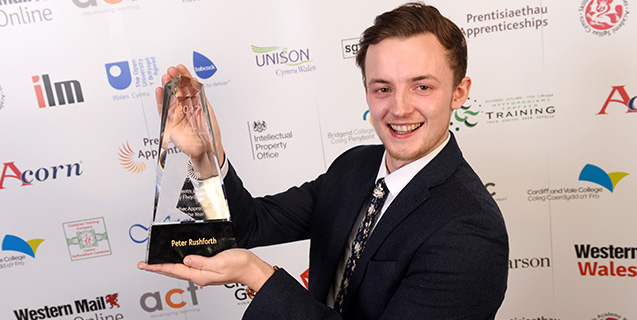 Champion butcher Peter Rushforth, who has not looked back since choosing an apprenticeship instead of going to university, has added the Higher Apprentice of the Year award to his impressive collection of honors.
Peter, 22, from Leeswood, collected the prestigious accolade at the annual Apprenticeship Awards Cymru ceremony held at the Celtic Manor Resort, Newport on Friday night.
In addition to winning the award, he is also due to start a new job at a Chester business which is planning to launch butchery classes in the new year. He paid tribute to the support he had received from Clive and Gail Swan at Swans Farm Shop in Treuddyn, near Mold to develop his career to date.
"This award marks the end of my time as an apprentice and its truly special," said Peter. "The last four years have been building up to this moment. I couldn't have done it without Clive and Gail and I will forever be in debt to them. I have also had great support from my family and Cambrian Training Company.
"Schools must realise that academic qualifications are not suited to everyone and awards like these speak for themselves in terms of what is possible when you are an apprentice."
Award sponsor Iain Salisbury, chief executive of the Vocational Skills Partnership, said: "At VSP, every day we see the positive impact higher apprentices are having on the businesses they work in. We are delighted to sponsor this award which celebrates not only Peter's individual achievement, but also the growth in Higher Apprenticeships in Wales as a whole."
Jointly organised by the Welsh Government and the National Training Federation for Wales (NTfW), the coveted awards are sponsored by Pearson PLC and supported by media partner, Media Wales. The Apprenticeship Programme is funded by the Welsh Government with support from the European Social Fund.
Thirty star learners, employers and learning providers involved in the delivery of successful skills programmes across Wales were shortlisted for awards.
The awards are designed to showcase and celebrate the outstanding achievements of learners, employers, tutors and assessors who have excelled in contributing to the development of the Welsh Government's Traineeships and Apprenticeship programmes.
No stranger to success, last year, Peter won a WorldSkills UK gold medal for butchery, the Meat Trades Journal Young Butcher of the Year title, represented the UK in a European Young Butchers Competition and was runner up in the Premier Young Butchers contest.
This year, the former Welsh Young Butcher champion secured a Meat Promotion Wales/Hybu Cig Cymru scholarship to study beef forequarter and related products in the United States and was named Higher Apprentice of the Year by his training provider, Cambrian Training Company.
Peter started working at Swans Farm Shop in Treuddyn, near Mold at weekends when he was 15 and jumped at the chance to pursue an Apprenticeship there when he left school with nine GCSEs and three A levels.
He has progressed from a Foundation Apprenticeship in Meat and Poultry Industry Skills to a Higher Apprenticeship in Food Manufacturing Excellence, which he completed earlier this year.
Now in demand as a butchery demonstrator both in the UK and internationally, he said: "The Higher Apprenticeship has really helped catapult my business understanding into another league.
"My progression through Apprenticeships has opened doors to many opportunities, such as competitions, I've developed my skills tenfold and they have motivated me to expand my skillset to be the best."
Congratulating Peter on the award, Skills and Science Minister, Julie James said: "Each finalist has helped to set a gold standard in vocational training and this should be applauded.
"Apprenticeships and Traineeships are an essential ingredient of economic success and a vital tool in building a stronger, fairer and more equal Wales. The Welsh Government, with support from the European Social Fund, regards Apprenticeships and Traineeships as an excellent way to build a skilled and competitive workforce, address skills shortages and strengthen the Welsh economy.
"Increasing higher level skills and developing skills pathways that benefit the whole of Wales has never been more important and we are committed to continuing the good work already underway with businesses, training providers and individuals to achieve this."
The other category finalists were: Megan Hession, Llanishen, Cardiff who works for Montana Health Care, Caerphilly and Rebecca Crook, St Athan who works for Little Inspirations Day Nursery, Barry.