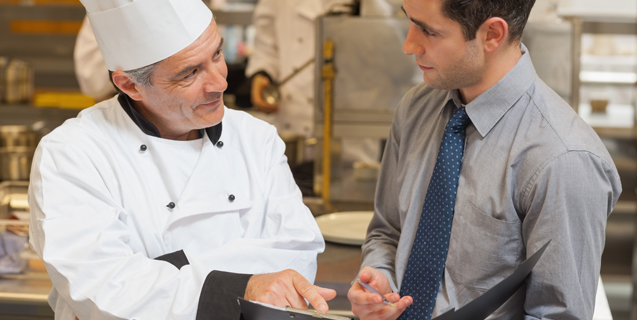 Food Safety Level 3
CIEH Level 3 Award in Supervising Food Safety in Catering
CIEH Level 3 Award in Food Safety Supervision for Manufacturing
CIEH Level 3 Award in Food Safety Supervision for Retail
In line with the National Occupational Standards reflecting sector-specific needs, these qualifications provide a thorough understanding of food safety procedures emphasising the importance of monitoring staff and controls.
Who needs this qualification?
Managers and supervisors in small, medium or large catering, manufacturing or retail businesses.
Particularly relevant for those who have to develop or monitor HACCP based food safety management procedures and systems.
Why is this training important?
Anyone working in a supervisory position in the food business is not only responsible but also accountable for food safety. It is therefore vital they are equipped with both the knowledge and confidence to do their job effectively.
Learning outcomes
• Ability to implement and supervise a food safety management system
• Understand food safety procedures
• Understand the concept of food hazards and the risks associated with them
• Understand the terminology with respect to supervising food safety
• Understand the techniques involved in controlling and monitoring food safety
• Appreciate the risks linked to cross contamination
• Understand the role temperature has to play in the control of food safety
• Appreciate the importance of supervising high standards of cleanliness in food premises
COURSE DETAILS
Duration
This course is a three day programme assessment that consists of a multiple choice examination.
Lunch is provided if you have any special dietary requirements, please contact our course manager, Debbie Thomas.
The course runs from 9.00am til 4.00pm.
Location
Please note: The location of your course will be stated in any letters received by us with regards to your attendance at this course.
Prerequisite
Recommended understanding and knowledge of basic food hygiene .
Ideally the Level 2 Award in Food Safety taken within the last three years.
For further information please contact our Commercial Course Manager, Debbie Thomas.
Email: deborah@cambriantraining.com
Fees
This course costs £300 + VAT payable by cash or cheque.
Please book your place by contacting Debbie Thomas on; Email: deborah@cambriantraining.com