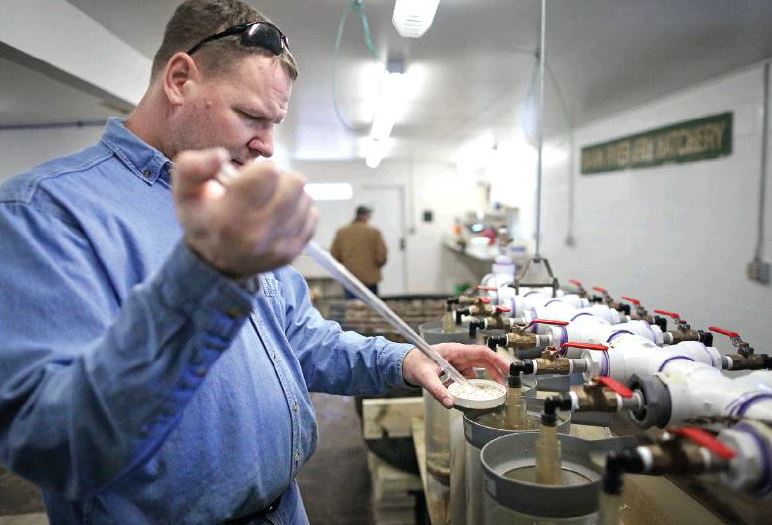 To apply for this vacancy you must be ages between 16-24, as this is part of Welsh Government funded program.
To apply: You MUST create an account & log in via the following website >> https://ams.careerswales.com/Public/Vacancies/View.aspx?vid=45684
Vacancy Description
Carry out day-to-day hatchery operations.
Monitor, test and record water quality parameters.
Ensure that necessary feeding and maintenance occurs.
Maintain fish growth records and brood stock movement
records.
Participate in and record egg harvesting and grading
process.
Maintain records in compliance with Biosecurity plan.
Participate in all aspects of breeding cycle as necessary.
Diagnose any potential problems and act quickly to resolve
them in a timely manner.
Fulfil orders and ensure customer satisfaction.
Keep up to date with industry standards and recommend
site improvements to the Facilities Manager and Managing
Director.
Communicate regularly with Hatchery Manager and
Maintenance team to identify any potential issues.
Contribute as a leader in the team.
Training provided
Full on the job training will be provided by the company, Leading to a sustainable job for the right candidate.
Desirable personal qualities
Knowledge required:
Ability to work autonomously and proactively, as well as
within a team.
Attention to detail.
Ability to delegate.
Ability to communicate effectively within a team.
Customer service attitude and focus.
Excellent communication skills (Written, oral).
Knowledge of Microsoft Office (Word, excel, etc).
Physical capability for standing, bending, manual dexterity.
Inherent love of fish preferred.
Common sense a must.
Qualification(s) Required
1 Degree at Pass or equivalent
Welsh Language Requirements
Welsh Spoken Skills: Advantage.
Welsh Written Skills: Advantage.
Interview arrangements
***IMPORTANT INFORMATION*** BEFORE APPLYING FOR THIS VACANCY ENSURE that you are eligible for a Jobs Growth Wales position ENSURE you complete your vacancy profile as fully as possible, and provide an up-to-date mobile number & email address in your application. CHECK your email inbox and Careers Wales account regularly for updates to your application. SUITABLE CANDIDATES WILL BE NOTIFIED OF INTERVIEW ARRANGEMENTS AS APPROPRIATE **IF YOU RE INVITED FOR INTERVIEW, please ensure you contact the employer to confirm that you WILL or WILL NOT be attending. **IF YOU ARE OFFERED A START DATE – please ensure you contact the employer to confirm that you WILL or WILL NOT be starting
Eligibility
Your application will be refused if you are not eligible.
Job Features
| | |
| --- | --- |
| Job Category | Jobs Growth Wales |