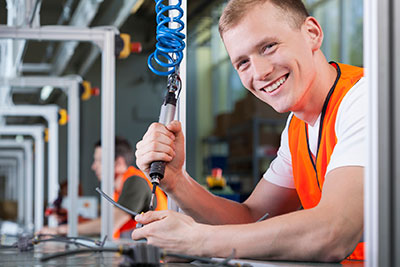 To apply for this vacancy you must be ages between 16-24, as this is part of Welsh Government funded program. To apply: You MUST create an account & log in via the following website >> https://ams.careerswales.com/Public/Vacancies/View.aspx?vid=46259
Vacancy Description
Occupation:
Production / Assembly Worker
Sector:
Manufacturing and Production
Main purpose of job:
To assist in the production of food products from raw
ingredients to finished product being packed and
despatched.
Main duties – can include several the following:
Record keeping of goods inwards.
Follow standard operating procedures step by step to
produce product.
Record keeping of each step of the processes.
Clean down processes.
Portioning, packing and labelling finished product.
Stock rotation of stores.
Dispatch orders.
At quiet periods carry out any duties requested by
factory manager.
Training provided
Full on the job training will be provided by the company, leading to a sustainable job for the right candidate.
Desirable personal qualities
Good understanding of personal hygiene.
Knowledge of numeracy and literacy, ability to
understand written operating procedures, ability to
weigh accurately, ability to record actions undertaken.
Level 2 food hygiene desirable.
Qualification(s) Required
No Minimum Requirements
Welsh Language Requirements
Welsh Spoken Skills: No.
Welsh Written Skills: No.
Interview arrangements
Interviews will be conducted throughout the
duration of the advert, the job will be offered as
soon as a suitable candidate is found.***IMPORTANT INFORMATION*** BEFORE APPLYING FOR THIS VACANCY ENSURE that you are eligible for a Jobs Growth Wales position ENSURE you complete your vacancy profile as fully as possible, and provide an up-to-date mobile number & email address in your application. CHECK your email inbox and Careers Wales account regularly for updates to your application. SUITABLE CANDIDATES WILL BE NOTIFIED OF INTERVIEW
ARRANGEMENTS AS APPROPRIATE **IF YOU RE INVITED FOR INTERVIEW, please ensure you contact the employer to confirm that you WILL or WILL NOT be attending. **IF YOU ARE OFFERED A START DATE – please ensure you contact the employer to confirm that you WILL or WILL NOT be starting
Hours
37 hours per week 7.5 hours per day from – 7:00am to 3:00pm (30- minute lunch unpaid)
Pay
National Minimum Wage
Job Features
| | |
| --- | --- |
| Job Category | Jobs Growth Wales |