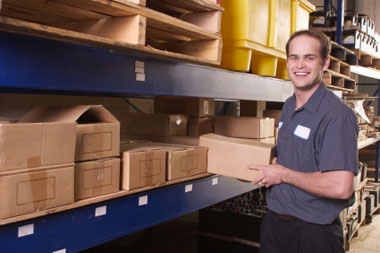 To apply for this vacancy you must be ages between 16-24, as this is part of Welsh Government funded program. To apply: You MUST create an account & log in via the following website >> https://ams.careerswales.com/Public/Vacancies/View.aspx?vid=46077
Vacancy Description
Occupation:
Warehouse Assistant
Sector:
Transport and Logistics
Have Excellent Knowledge of IT as position
requires use of CRM systems, Warehouse
management system and be able to use Microsoft
Office etc on a daily basis. Majority of work will be
desk based so excellent Excel skills will be required
?
? Candidate will need to help control of goods in
and out of Warehouse in Swansea and remotely
from other warehouses located globally.
? Have responsibility of unloading and loading of
goods from all vehicles, while ensuring all safety
procedures are adhered to
? Candidate will be expected to be the first line
response for fielding incoming calls within our
maintenance and operations division, following up
and maintaining a database of any potential issues
arising.
? Be able to work at heights up to 5 meters. as
required
? Organise transport/dispatch for deliveries and
collections in the UK and Globally ensuring all
deadlines are met
? Be responsible for the Picking/Packing of orders
for delivery and/or collections.
? Have full ability to monitor stock levels. Use Stock
Management system to report on a weekly basis.
? Liaise with customers, suppliers and transport
companies over delivery schedules and order
deadlines.
Training provided
Full on the job training will be provided by the company, leading to a sustainable job for the right candidate.
Desirable personal qualities
Be reliable and personable and flexible
Excellent knowledge of office 365 packages
Be computer literate
Qualification(s) Required
No Minimum Requirements
Welsh Language Requirements
Welsh Spoken Skills: No.
Welsh Written Skills: No.
Interview arrangements
Interviews will be conducted throughout the duration of
the advert, the job will be offered as soon as a suitable
candidate is found.
***IMPORTANT INFORMATION*** BEFORE APPLYING FOR THIS VACANCY ENSURE that you are eligible for a Jobs Growth Wales position ENSURE you complete your vacancy profile as fully as possible, and provide an up-to-date mobile number & email address in your application. CHECK your email inbox and Careers Wales account regularly for updates to your application. SUITABLE CANDIDATES WILL BE NOTIFIED OF INTERVIEW ARRANGEMENTS AS APPROPRIATE **IF YOU RE INVITED FOR INTERVIEW, please ensure you contact the employer to confirm that you WILL or WILL NOT be attending. **IF YOU ARE OFFERED A START DATE – please ensure you contact the employer to confirm that you WILL or WILL NOT be starting
Hours
40 per week
Pay
National Minimum Wage
Job Features
| | |
| --- | --- |
| Job Category | Jobs Growth Wales |