Determined to breathe new life into her grandfather's 'dying art' led to Cardiff-based Brød – The Danish Bakery launching an award-winning partnership with Cambrian Training Company.
Betina Skovbro moved to the United Kingdom from Denmark in 1998, but it was in 2015 that she set up her independent bakery and coffee shop to develop the next generation of Danish artisan bakers.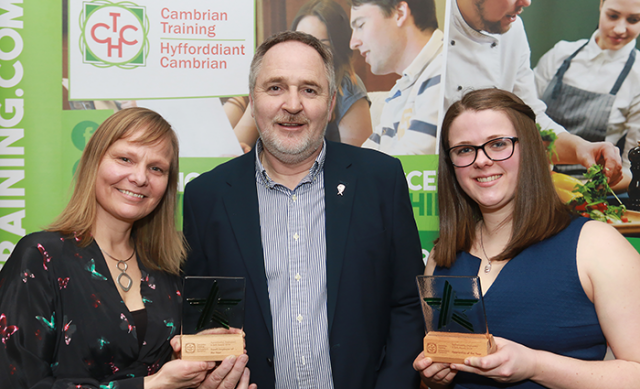 Not only did it result in her winning the 2019 Small Employer of the Year at the third Cambrian Training Apprenticeship, Employment and Skills Awards, one of her three apprentices, Rebekah Chatfield, was named Apprentice (Level 3) of the Year after turning her passion for baking into a career.
"I thought it might be a gamble to start an Apprenticeship programme because we have no margin for error in baking," said Betina. "It means I expect a lot from my staff and sometimes I am very hard on them, but they have responded superbly to the training programmes.
"My grandfather was a baker and I started this business because I felt artisan baking was a dying art which I wanted to do something about by training the next generation. Our Apprenticeship programme is certainly helping with that."
Brød – The Danish Bakery currently delivers Level 2 and 3 Certificates in Proficiency in Baking Industry Skills which were introduced early on in the company's history.
"This was driven by two key reasons," explained Betina. "A perceived shortage of trained bakers in the market and a desire to train bakers in the techniques of Danish artisan baking in order to sustain the growth of the business.
"Now, it is difficult to imagine our business without the Apprenticeship programme. From starting as a solution to a challenge, it has now become an essential part of our operation.
"We see first-hand the ways our apprentices develop and how their skills and confidence are enhanced. We also see how they grow as people."
Betina said that the Apprenticeship programme has enabled the business to increase its opening hours, as well as produce a wider range and volume of products.
The employees have benefited too from business growth with apprentices enjoying better rates of pay, private healthcare and the opportunity to participate in external training programmes.
Brod offer their apprentices fantastic training opportunities to widen their knowledge and create a better understanding of Danish Baking, by sending them out to Denmark, to work and get first-hand experience of Danish Baking.
"We have seen first-hand the positive benefit apprentices can make to a small, new business," added Betina. "We remain committed to continuing this programme and look forward to watching the progress of our apprentices now and in the future."
Cambrian Training Company training officer, Mark Llewellyn, has worked closely with Betina to deliver a programme relevant to the company's needs.
"The programme allows the business to develop their staff around their own specific needs," said Mark. "Apprentices are trained in their own way which means they can contribute to the business more quickly while being supported by their in-house team as well as Cambrian Training Company."
#EngageInspireSucceed