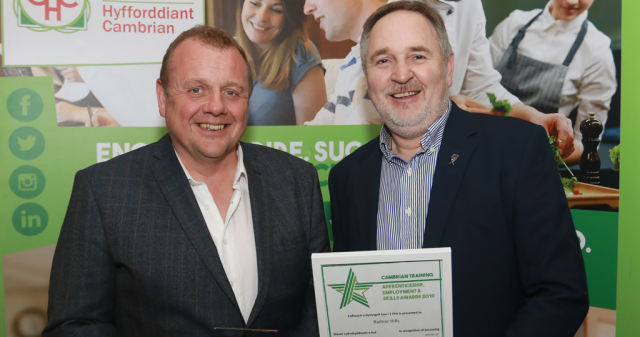 Left to right; Dave Pope, Radnor Hill's General Manager & Arwyn Watkins OBE, Cambrian Training's Managing Director & Chair.
Radnor Hills is on a mission to ensure that all new recruits to the company are enrolled into an Apprenticeship programme after reaping the benefits in a short space of time.
The company, based in Knighton, was named 2019 Medium Employer of the Year at the Cambrian Training Awards after demonstrating the positive impact that its various programmes have had since they introduced Apprenticeship training in October 2017.
Working in an industry with no margin for error, Radnor Hills strongly believes that investing in its staff to deliver optimum results in the workplace is integral to producing almost four million bottles of drinks every single year.
"We decided to use the Apprenticeship programme to create a stable, trained and motivated workforce," said General Manager, David Pope.
"We use our Apprenticeship programme to also create a consistency in the way that our staff work. It enables them to have the same level of training when it comes to dealing with work matters, and also gives them the vital knowledge they need to be more effective in their role."
Its programme started initially with 10 employees enrolled, and just 18 months later over 50 apprentices were benefiting from the company's full time training facility.
"We invest a lot of time, effort and resources into our Apprenticeship programmes, but it is paying off," explained David. "It was not easy to start, but having our dedicated learning facility on site has made a big difference."
Radnor Hills employs 180 people from several nationalities and works closely with Cambrian Training Company to develop the individual's written knowledge and essential skills when undertaking their specific Apprenticeship training.
This has resulted in a sharp rise in staff competence and confidence levels with more employees now armed with the knowledge to effectively deal with problems and issues in the workplace.
The company currently runs five Apprenticeship programmes from Food Industry Skills Level 2 up to Management Level 5 with promotion incentives in place for successful completion.
"We feel it strengthens the company to have a skilled, trained workforce," added David. "We want to link our Apprenticeship programme directly with promotion which can only have a positive impact on the company. It has to be said that if the staff are undergoing development and training then the company will benefit from it."
The main indicators to monitor success include increased staff retention, productivity on the line as well as those running the line, and increased levels of numeracy and literacy among its staff resulting in less mistakes in documentation.
But David points to one vital benefit that Apprenticeship training has brought to Radnor Hills.
"One of the main benefits we have seen is staff satisfaction," he said. "When you have happy staff they are always more productive.
"We have shown our commitment to them by giving them the opportunity to undertake the training and we are seeing their continued commitment to us as a company."
Radnor Hills' impressive expansion of its Apprenticeship programme has been carried out in close co-ordination with Cambrian Training Company.
"Radnor Hills has demonstrated a tremendous commitment to its Apprenticeship programme by recently opening its on-site training facility that will undoubtedly support its multi-national workforce in developing their careers within the company," said Chris Jones, Cambrian Trainings' Head of Business for Food Manufacture.
Radnor Hills are so impressed with the benefits that apprenticeships have had on the business they are now looking into the possibility of introducing apprenticeship programmes in Engineering.
#EngageInspireSucceed