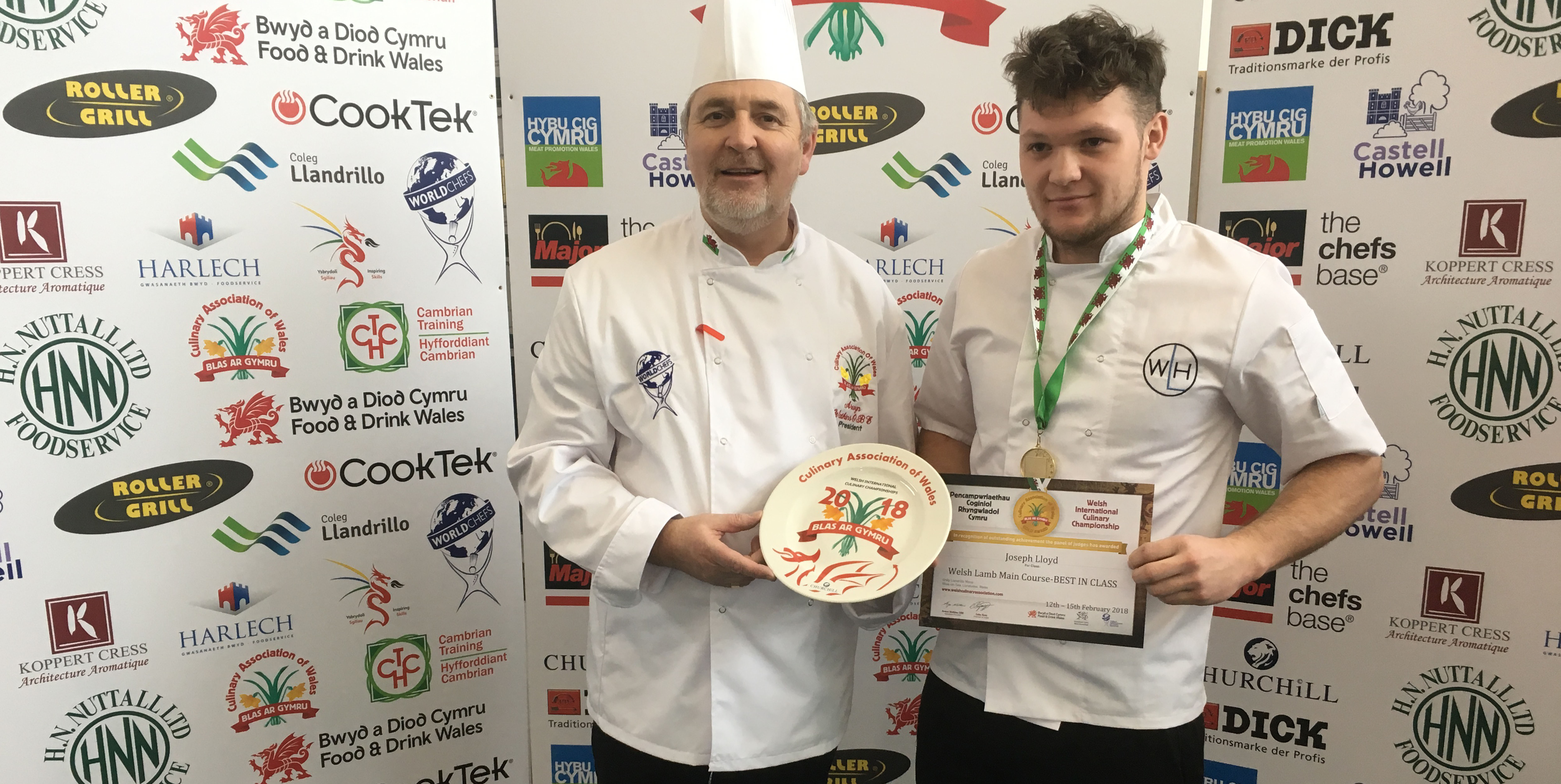 A North Wales teenager has gone from pot washer to gold medal winning chef in three years after signing up for an apprenticeship in professional cookery.
Joseph Lloyd, 19, from Trelawnyd, near Rhyl, won the gold medal for his best in class Welsh Lamb main course at the Welsh International Culinary Championships, which attracted chefs from across Wales and England to Grwp Llandrillo Menai's Rhos-on-Sea campus last month.
Such is his dedication and commitment that he has worked his way up from pot washer to chef de partie at Bodelwyddan Castle Hotel at Bodelwyddan in the past two years.
Having completed a Foundation Apprenticeship in Professional Cookery, he has now progressed to an Apprenticeship with award-winning learning provider Cambrian Training Company.
His training officer, Nora Jones, praised his commitment to learning new skills. "Joe is a very quick learner and worker but likes to ensure that his dishes taste good," she said.
"For the competition at the Welsh International Culinary Championships, he knew exactly what he wanted to cook and did quite a bit of research before the competition. He was over the moon to win a gold medal.
"He gets on really well with the chefs at Bodelwyddan Castle Hotel who all enjoy working with him and have been very supportive."
The hotel's executive chef Bob Hughes described Joe as a natural chef. "He was washing pots 18 months ago and he now runs a shift for me, cooking for up to 450 people, so he's obviously got great potential," he said. "He grafts really hard."
Joe praised the support he receives from the hotel's chefs and Cambrian Training Company and said his ultimate ambition is to own his own restaurant one day.
He explained that he had left his school's sixth form to start working as he wanted to earn a wage and has no regrets about opting out of the academic learning route.
"Obviously, it was a good decision because I am now working as a chef and enjoy what I am doing," he said. "I would recommend an apprenticeship because it give you a chance to work and earn money and achieve qualifications at the same time. That's perfect for me."
Proud to have won a gold medal on his competition debut, he added: "It was good experience working under pressure and I didn't expect to do so well. Hopefully, the medal will help me progress in my job role."
For more information please contact Katy Godsell, Cambrian Training Company's marketing manager, on Tel: 01938 555 893 or Duncan Foulkes, public relations adviser, on Tel: 01686 650818.