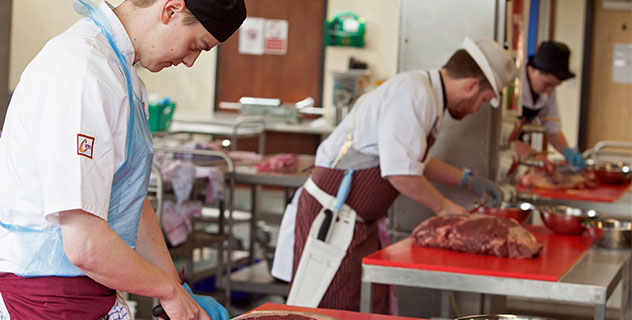 Immediate: May 30, 2018
A nationwide hunt to find the UK's top butcher begins in Northern Ireland next week where two heats of the prestigious Butchery WorldSkills UK competition are being held.
Southern Regional College, in Newry is the venue on Tuesday, June 5 for the Northern Ireland heats which will see six talented butchers put their skills to the test to prove they are a cut above the rest.
Competing are Dylan Gillespie from Clogher Valley Meats, Clogher, Tyrone; Bryan McNamee from Newry, County Down and, Saulius Repecka and John Shortland, all from Southern Regional College Portadown, County Armagh.
 They are seeking to follow in the footsteps of James Taylor, of G. Simpson Butchers, Heckington, Lincolnshire, who won the competition last November.
The competition focuses on all the essential skills required for a successful career as a multi-skilled butcher within the food manufacturing industry.
 Butchers are tested for overall skill, innovation, creativity, presentation, work ethic, method and approach to tasks, carcass and primal utilisation, waste and safe and hygienic working practice.
From three regional heats or assessment rounds across the UK, the six top scoring butchers will qualify for the final to be held at The Skills Show at the NEC Birmingham from November 15-17.
The other regional heats are at University College Birmingham on June 12 and the City of Glasgow College on June 26.
In the final, the six butchers will complete five tasks over two days in front of a live audience. The Skills Show is the nation's largest skills and careers event and helps to shape the future of the next generation.
The butchery competition is organised by award-winning training provider Cambrian Training Company, based in Welshpool and supported by an Industry Steering Group. Sponsors are specialist awarding organisation FDQ, The Institute of Meat, Hybu Cig Cymru/Meat Promotion Wales and The National Federation of Meet and Food Traders.
To enter, butchers must not have completed a qualification higher than a level 4 in Food Manufacturing Excellence or equivalent. They must possess good knife and primary and secondary butchery skills, including seam butchery, with a minimum of six months practical experience, good tying and stringing skills, sausage making experience and ability to work under pressure in front of an audience.
Butchery is one of more than 60 skills to feature in this year's WorldSkills UK Competitions which are proven to help young people go further, faster in their training and careers. The competitions are designed by industry experts and focus on the highest UK and international standards.
They deliver benefits to not only apprentices and students, but also to their employers, training providers and colleges. Taking part in the competitions equips apprentices with the world-class skills needed to help organisations maintain their competitive edge.
More than 95% of past entrants believe that taking part in the competitions improved their technical and employability skills.
Picture caption:
Butchers competing in last year's Northern Ireland heats.