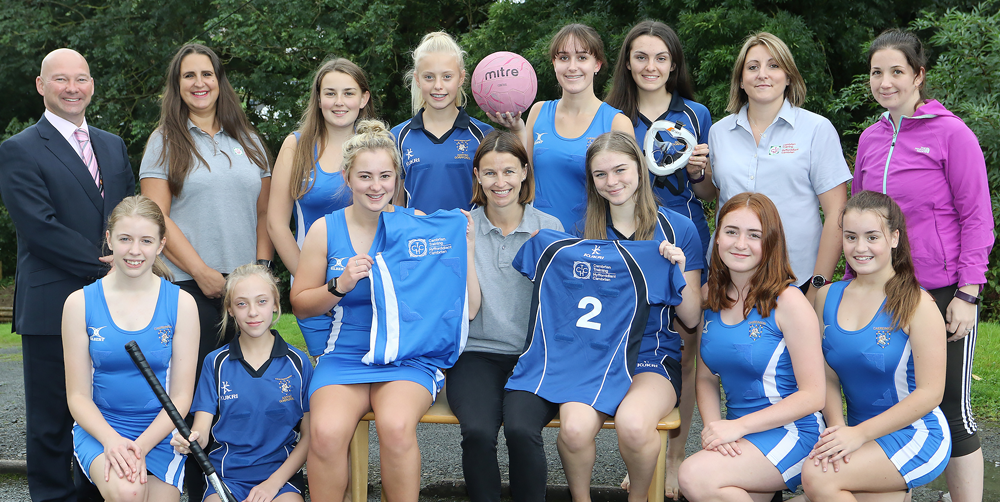 Picture caption: Director Elen Rees, marketing manager Katy Godsell, Have-a-Go activities co-ordinator Vicky Watkins from Cambrian Training present the netball and hockey kit to Caereinion High School pupils watched by headteacher Philip Jones and PE teacher Catrin Jones.
Netball and hockey teams representing Llanfair Caereinion High School have a new set of kit to wear thanks to award-winning training provider Cambrian Training.
The kit sponsorship further enhances the company's relationship with the school and its pupils. Staff from Cambrian Training are welcomed into the school to provide advice about apprenticeship routes available to pupils who are considering their career options and to provide 'Have-a-go' activities.
Hospitality training officer Donna Heath, from the company, also holds weekly pre-apprenticeship sessions for pupils who wish to progress to an apprenticeship when they leave school at the age of 16.
Headteacher Philip Jones thanked Cambrian Training for sponsoring the kits. "The school punches above its weight in terms of sports success at a local, county and national level," he said.
"Last year, we achieved county success in both hockey and netball and participation rates across the school are very high.
"I am delighted that Cambrian Training has acknowledged the dedication to sport within the school and both organisations recognise the importance of continuing to promote health and wellbeing."
Referring to the school's relationship with Cambrian Training to make pupils aware of apprenticeship opportunities, he explained: "We treat every child as an individual and, by getting to know their particular interests and career aspirations, we realise that sometimes it's not the traditional academic route that is going to help them succeed."
The school also works with other learning providers to provide advice to pupils about specific career options. "We don't see them as a threat, but as collaborative working," added Mr Jones. "We can't work in splendid isolation."
Cambrian Training's marketing manager Katy Godsell said: "The kit sponsorship is part of the company's ongoing relationship with the school to raise awareness of apprenticeship opportunities and to support young people in the community."
Cambrian Training specialises in the delivery of apprenticeships and employability opportunities across a range of industries pan-Wales. The Apprenticeship Programme in Wales is funded by the Welsh Government with support from the European Social Fund.
For more information, contact Katy Godsell, Cambrian Training Company's marketing manager, on Tel: 01938 555 893 or Duncan Foulkes, public relations adviser, on Tel: 01686 650818.