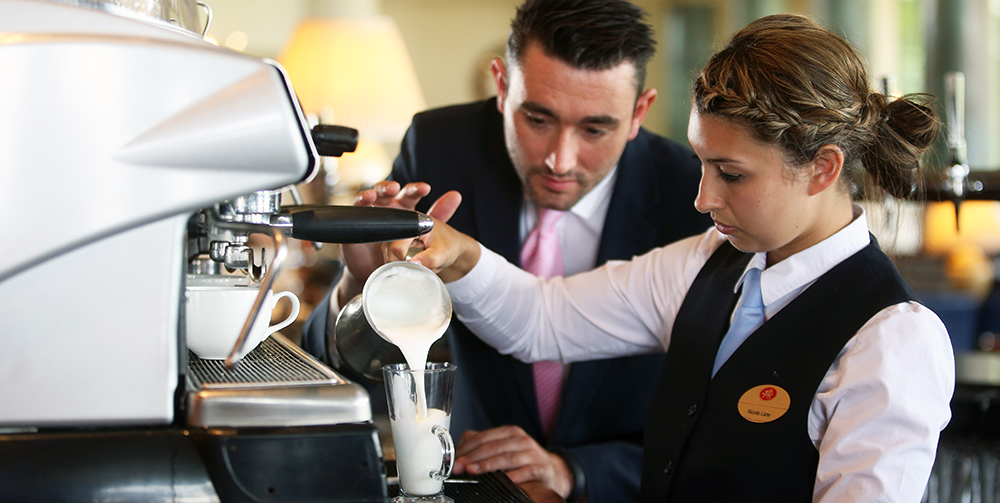 The Celtic Manor Resort…
Why did you decide to engage in apprenticeships?
Within the hospitality industry there is a shortage of highly skilled people. The apprenticeship programme allows us to train our staff to ensure they are performing to the standards that are required within our business, being a 5 star Resort this is vital for our success. Engaging in apprenticeships is also great for our employee's personal development, it allows them to expand on their skills and knowledge whilst being in the workplace increasing both their productivity and motivation. It is great to see the growth in an individual when they complete their qualification, often they are eager to undertake the next level of qualification so they can continue to develop.
How do you think getting involved with the apprenticeship programme has influenced your staff? E.g. productivity levels, motivation, knowledge.
Getting involved with the apprenticeship programme has influenced out staff on many levels. Those individuals are trained in the key skills and competencies required within their job role, this means they are equipped in delivering our service standards. In addition to job related skills, apprentices also gain key life skills which benefit them in their personal and professional life, these skills include; problem solving, time management, communication and taking ownership. All of these factors make our workforce competent, productive and motivated.
Do you think apprenticeships have contributed to your success as a business? If so, why? 
I think apprenticeships have definitely contributed to our success as a business. Apprenticeships have many benefits to the business. Firstly, it ensures all of staff are performing to the high standards that are required in our business, for us this means that all our staff are delivering our vigorous five star standards to ensure our guests have a positive and unforgettable experience
when visiting the Celtic Manor Resort.
Apprenticeships helps with both recruitment and retention of our staff, it shows that as a business we are committed to developing and nurturing our own talent. Those individuals who undertake an apprenticeship with us are often very loyal, ambitious and are eager to learn. This ultimately impacts their productivity and commitment to the business.
Would you recommend the Apprenticeship programme to other businesses? If so, why?
I would definitely recommend other businesses to the Apprenticeship programme. With a shortage of highly skilled people entering the hospitality industry as well as the industry not being viewed by many as a career pathway, apprenticeships are very important in order to promote the hospitality industry and to encourage all generations that the hospitality industry can provide an exciting and successful career. The apprenticeship programme will also ensure that your workforce is competent, knowledgeable, motivated and productive – you can't ask for much more than this!
Hospitality & Hotel Apprentice, Jessica Howells
Did you always dream of becoming a "Hotel & Hospitality Apprentice"? If so, why?
No I didn't, I always thought I was going to be an air hostess, but after realising that it wasn't the job for me I came back to the Celtic Manor and realised that it was what I wanted to do.
What key skills did you learn on your apprenticeship that really made you stand out as a "Hotel & Hospitality Apprentice"?
I think one of the key skills that I have learnt in my apprenticeship is the ability to work under pressure and to stay calm. I think I have very good time management skills and the desire to work in the hospitality industry which makes me stand out.
Would you recommend an Apprenticeship? If so, why?
I would definitely recommend being an apprentice to anyone, I really struggled in school and was pushed into A Levels by my school with the expectation to go to university. I think an apprenticeship will prepare anyone for any job they want to do more than a university degree does.