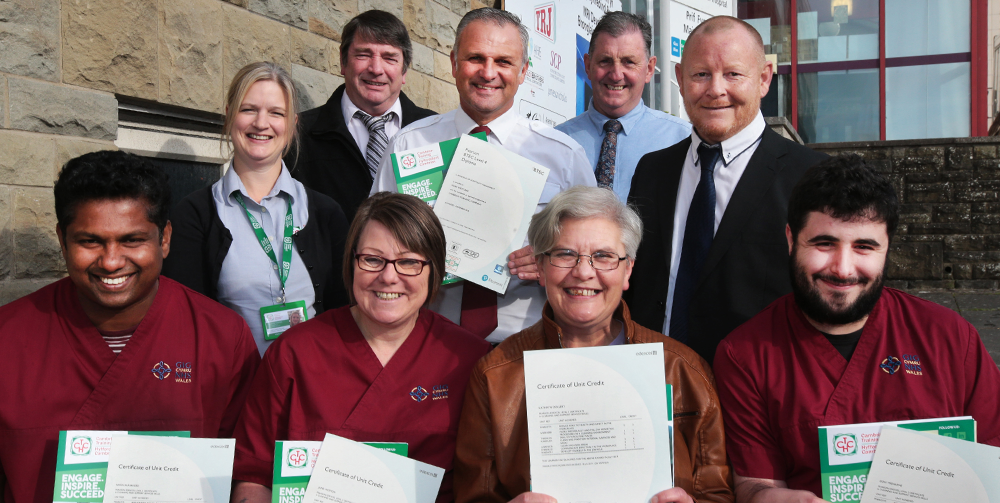 Bronglais Hospital
Why did you decide to engage in apprenticeships?
The learning partnership between the hospital and Cambrian Training began 15 years ago with staff aged between 17 and their 60s, and it was the intention that every member of staff that either worked in the kitchens, cleaning or porters gained a national qualification while in the work place. Training was available to clinical staff but not hotel services.
The frameworks at Bronglais have ranged from foundation to higher apprenticeships, include hospitality management, hospitality supervision, housekeeping, food and drink services, cleaning and support services skills and hospitality services.
How do you think getting involved with the apprenticeship programme has influenced your staff? e.g. productivity levels, motivation, knowledge
The apprenticeship programme shows commitment from the hospital, therefore meaning that the staff are more committed to their jobs. They are given the opportunity to further their career and progress within the hospital.
Do you think apprenticeships have contributed to your success as a business? If so, why?
This has been a wonderful and worthwhile venture that has proved very beneficial to the staff and brilliant for the hospital. The trainers are excellent, and well-trained staff are much happier and competent.
The training has also resulted in a significantly lower level of staff sickness at Bronglais which consistently has the highest standards of cleanliness, they are more motivated which has led to higher performance.
Would you recommend the Apprenticeship programme to other businesses? If so, why?
The apprenticeships have been so successful at lowering staff sickness levels and improving performance that Hywel Dda University Health Board is considering using Bronglais as a model to introduce them in other hospitals throughout Hywel Dda so I would definitely recommend the apprenticeship programme to other businesess.