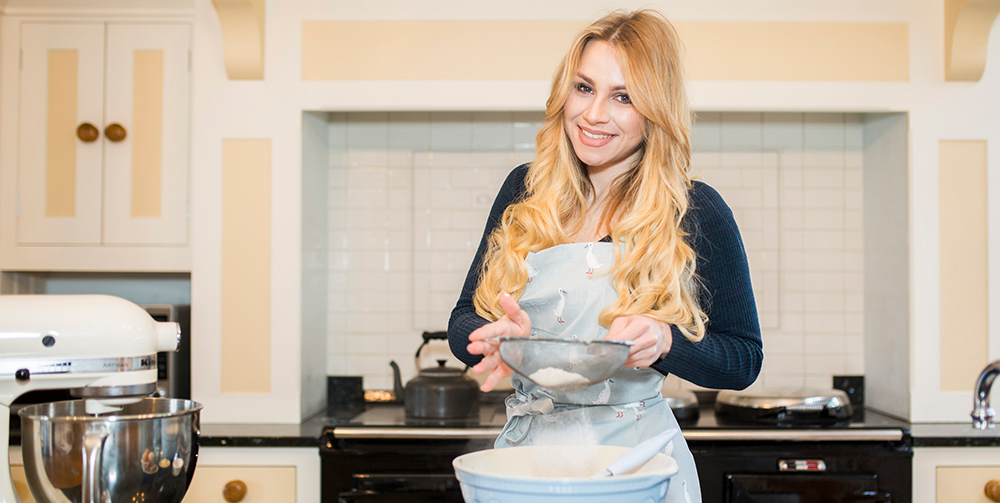 Welsh winner of BBC One's The Apprentice in 2016, Alana Spencer, will soon be saying those famous words "You're hired", as she celebrates Apprenticeship Week Cymru by seeking to recruit her first apprentice.
Alana, 27, already employs seven staff in her handmade cake company, Ridiculously Rich by Alana, which moved into a unit on Glanyrafon Industrial Estate in her home town of Aberystwyth last October.
Up until that point, she had been outsourcing production but has now brought everything in-house which resulted in five staff being recruited immediately.
One of those staff, Matt Lloyd, 20, was recruited through the Welsh Government's Jobs Growth Wales (JGW) programme and has done so well that Alana is looking to take on a general assistant through the programme.
She's also offering a Proficiency in Baking Industry Skills Apprenticeship to a bakery assistant who will help to bake the mouth-watering, handmade cakes.
Both the apprenticeship and JGW vacancy are being offered through Cambrian Training, an award-winning, pan-Wales work-based learning provider, which has been working with Ridiculously Rich by Alana since last August.
Details of the vacancies are available online at: https://cambriantraining.com/wp/en/jobs-board/apprentice-bakery-assistant-ref46159-ridiculously-rich-by-alana-aberystwyth/ and https://cambriantraining.com/wp/en/jobs-board/general-assistant-ref-46738-ridiculously-rich-by-alana-aberystwyth/ .
"An apprenticeship is the perfect way to support someone in my home town who wants to gain a qualification in the food industry while learning on the job," said Alana. "With so much amazing support available in Wales, it's a real help for small businesses to grow a team."
The business is growing at a rapid rate which has been boosted by the decision to bring all production in-house.
Her professional love affair with sweet treats began at the age of 14, when her mum bought her a book about making chocolate. Alana became a self-taught chocolatier by the age of 16, renting her first kitchen and starting to sell her luxury chocolates to friends, family and teachers, before attracting the interest of two shops in Aberystwyth.
The delicious chocolates became so popular that, in 2010, she decided to leave school and pursue her entrepreneurial chocolate-loving dream. Initially calling her business Narna's, she started making tray-baked cakes alongside her chocolates and moved production to a purpose-built country kitchen in her parents' back garden.
Soon Alana was travelling nationwide, selling her cakes at food events and shows.
In 2016, she applied to become a candidate on The Apprentice, seeking a £250,000 investment from Lord Sugar. Her passion for her business and delicious cakes sealed the deal and so 'Ridiculously Rich by Alana' was born.
Alana then launched her Ambassador and Cakepreneur schemes to find an army of cake-lovers, giving those that have always wished to run their own business a chance to come on board and start their very own Ridiculously Rich franchise.
The company now has 50 franchises nationwide and customers can also order online at https://www.ridiculouslyrichbyalana.co.uk/ . Alana also sells her cakes in Nisa and BP convenience stores and other retailers, as a growing band of customers fall in love with her sweet treats.
A friend from Aberaeron Comprehensive School, Stacey Smith, has been hired as Alana's her personal assistant and manager of the franchise network.
Andrew Thompson, Cambrian Training's business engagement officer for Mid and West Wales, said: "We are delighted to be working with Alana's business to help recruit new staff through the Apprenticeship and Jobs Growth Wales programmes. There are excellent opportunities to join this fast-growing company."
Picture caption: Alana Spencer busy at work at Ridiculously Rich by Alana in Aberystwyth.
Image credit: Karen Massey Photography.
For more information please contact Katy Godsell, Cambrian Training Company's Marketing Manager, on Tel: 01938 555893 email: katy@cambriantraining.com or Duncan Foulkes, public relations consultant, on 01686 650818.