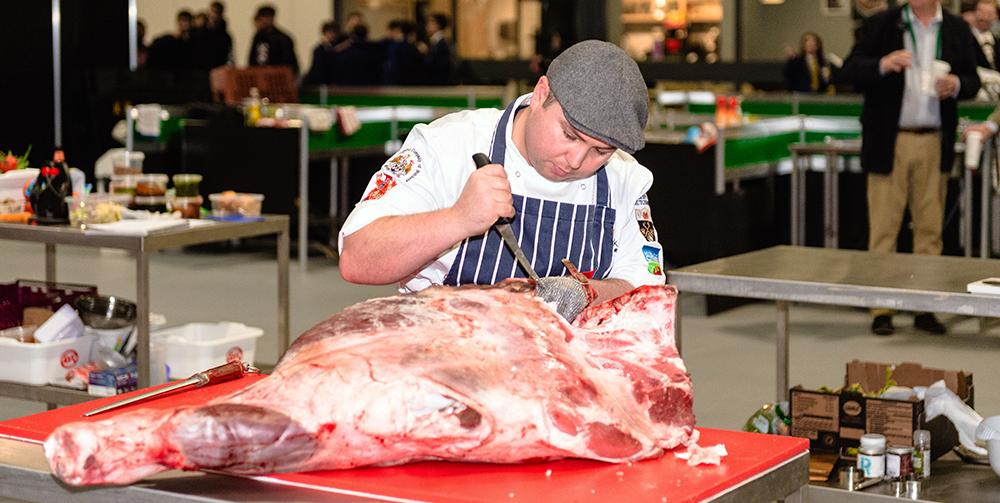 With applications opening for the WorldSkills UK Butchery Competition opening 2nd March, Welsh butcher, Liam Lewis looks back at his silver medal placement at the 2019 final.
Liam, 31, who lives in Winsford and works for The Hollies Farm Shop in Little Budworth, near Tarporley, was up against five other butchers from Wales, England and Northern Ireland in the final at WorldSkills UK LIVE, held at the NEC Birmingham.
The finalists included 2018's Silver medallist Craig Holly, 30, from Pontypool, who works for Chris Hayman Butchers, Maesycymer, Hengoed. Both he and Liam are members of the Craft Butchery Team Wales, which will be competing in the World Butchers' Challenge in Sacramento, California this September.
After a closely contested competition, the judges awarded the silver medal to Liam.
"I am very proud and honoured to be the silver medallist which is such a high achievement," said Liam, who is originally from Wrexham. "It's the biggest competition I have ever entered and the medal puts me in good company in the Craft Butchery Team Wales.
"I have had a fantastic response from customers, my employer, my family and friends. The phone hasn't stopped ringing with people congratulating me."
The finalists completed five tasks over two days in front of a live audience, which tested their skills to the limit. The second day began with a challenging mystery box task and ended with the toughest task set in the competition to date.
The butchers were each given a top and rump of beef and they had one hour to bone and trim it, one hour to seam the meat and one hour to make and display products.
"It was a huge challenge to get the display finished in time, but we were all in the same boat and we produced some amazing products," added Liam. "We all got on really well and the camaraderie was great."
The competition was organised by award-winning Welshpool-based training provider Cambrian Training and supported by an Industry Steering Group. Sponsors were The Institute of Meat, The National Craft Butchers, The Worshipful Company of Butchers and Hybu Cig Cymru/Meat Promotion Wales.
Liam has been an apprentice with Cambrian Training, having completed Meat and Poultry Industry Skills and Fish and Shellfish Industry Skills apprenticeship qualifications.
"Apprenticeships are invaluable because they set you up for life," he said. "Butchery has completely changed from what it was 15 years ago, with product innovation and new ideas, and it's important to keep learning and developing new skills."
Looking forward to the World Butchers' Challenge, he said: "It will be such an amazing experience competing against fantastic butchers. Wales has a young, skilful team and we want to go there and show the world what we can do."
Chris Jones, head of Cambrian Training's food and drink business unit, praised Liam's dedication to learning and developing his skills.
"Liam's development in the last two years has been unbelievable," he said. "His maturity, confidence, skill level and hunger for competition have come on leaps and bounds."
Butchers wishing to compete to become the UK's best butcher in 2020 may register their interest NOW at: https://www.worldskillsuk.org/champions/national-skills-competitions – entries open on 2nd March – 2nd April at https://www.worldskillsuk.org/