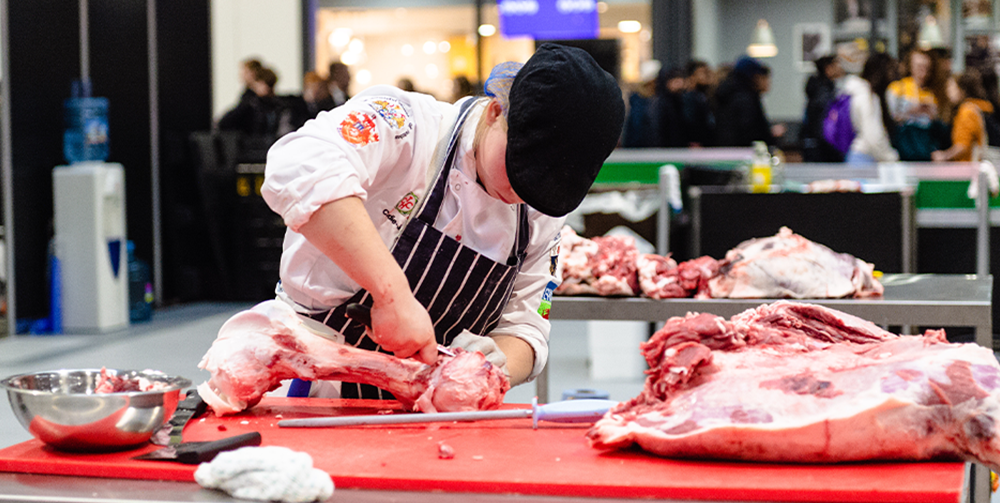 Ambitious Irish teenager Codie-Jo Carr has her sights set on developing a rewarding career in butchery and opening her own shop and restaurant in the future.
The 18-year-old from Keady, County Armagh, Northern Ireland is just setting out on her career but is already impressing people in the butchery industry with her skills and determination.
She works for Fred Elliott Family Butchers, Banbridge and is doing a level two Traineeship in Butchery at Southern Regional College where her tutor is Micheál Prunty, a qualified butcher himself.
Back in November, Codie-Jo was one of six butchers from across the UK who competed in the Butchery WorldSkills UK Competition final at WorldSkills UK LIVE, held at the NEC Birmingham.
Although she didn't win the competition, she impressed the judges with her skills and focus at the tender age of 17. Having had a taste of the final, she is hoping to qualify to have a second shot at the competition this year.
"I enjoyed the competition very much and learned so much from the other finalists and their displays," said Codie-Jo. "The whole experience of competing at the NEC was amazing and the final was full on, a big adrenalin rush.
"I was very nervous beforehand, but all the other finalists were lovely and it didn't feel like a competition because everyone got on really well and it was a great environment.
"Competing has boosted my confidence and I think I have developed since the competition. My aim this year is to learn more skills and to do better.
"Customers have congratulated me for being a finalist and have said it's nice to see a girl as a butcher."
She is keen to see more girls becoming butchers. "Although this industry is normally for boys, there is nothing whatsoever stopping girls from choosing butchery as a career," she said.
"I want to prove that it is possible for girls to become a butcher. My advice to them is to go for it and don't let the fact that it's a male dominated industry hold you back. It's your future, not theirs."
Codie-Jo inherits her work ethic from her father who runs a small retail and wholesale food business, Carr's Elite Foods. She has always wanted to work in the food industry but was unsure which branch best suited her until she spent a school work experience week on a supermarket butchery counter and she was smitten.
Having not been diagnosed as dyslexic until late at school, she still did well in her GCSEs and has thrived at vocational skills. "I just love learning different things and where different cuts of meat come from on the animal," explained Codie-Jo. "You get ideas for new products that people haven't seen before."
She thanked her tutor Micheál Prunty, her employer and her parents for their support.
Micheál explained that he had entered Codie-Jo in the Butchery WorldSkills UK Competition heat in Glasgow as a "training exercise" but she went on to beat much more experienced butchers to qualify for the final.
"She is going for a couple more competitions this year, but knows her qualifications come first," he added. "She is a very determined, hard working girl who wants to bring butchery into the family business."
Such is her career focus that she has already developed a personal development plan with him, plotting the levels three and four qualifications in Food Manufacture and Food Hygiene Management.
"I have no doubt that she will get where she wants to go," he said. "She definitely has that spark and the ability to light up the industry.
"She also wants to help promote females in the industry and her success has already encouraged two girls to enquire about our butchery course this year."
Organised by award-winning, Welshpool-based training provider Cambrian Training, the Butchery WorldSkills UK Competition is supported by an Industry Steering Group. Sponsorship and supporting partners are The Institute of Meat, The National Craft Butchers, The Worshipful Company of Butchers, Hybu Cig Cymru/Meat Promotion Wales and FDQ.
Online registration for WorldSkills UK Competitions 2020 is open until April 2 at www.worldskillsuk.org . For more information about the butchery competition, visit https://www.worldskillsuk.org/champions/national-skills-competitions/find-a-competition/health-hospitality-and-lifestyle/butchery
Regional heats are planned to take place across the country, between May and June, in Northern Ireland, Scotland, Midlands and the South of England. The six top scoring butchers from across the UK will qualify for the UK National Final at the NEC, Birmingham from November 19-21, 2020 as part of WorldSkills UK Live.
Any business or organisation wishing to sponsor this year's competition is asked to contact Katy Godsell at Cambrian Training katy@cambriantraining.com or Tel: 01938 555893 option 4.
Picture caption:
Codie-Jo Carr in action in last year's Butchery WorldSkills UK Competition.
Ends
For more information please contact Katy Godsell, Cambrian Training Company's Marketing Manager, on Tel: 01938 555893 email: katy@cambriantraining.com or Duncan Foulkes, public relations consultant, on 01686 650818.