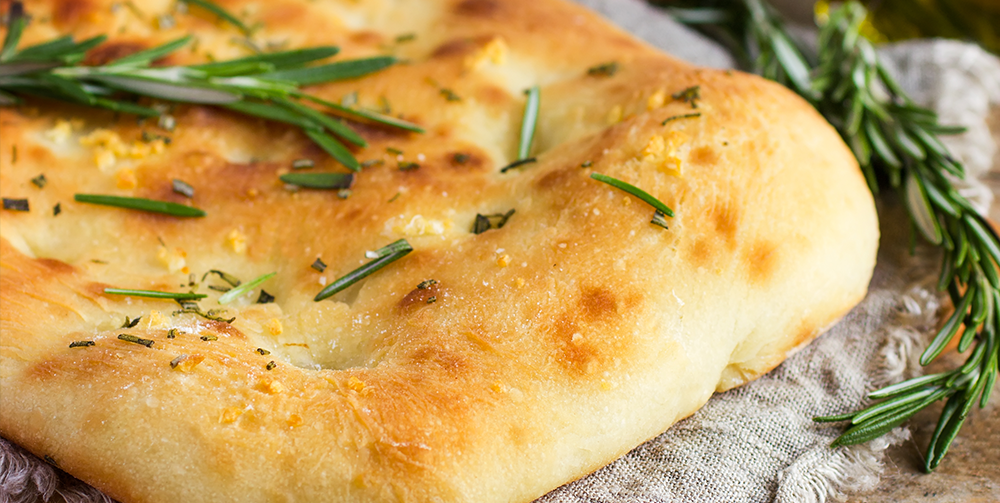 Makes 1 Loaf
Ingredients
250g Strong bread flour
1 tsp salt
1 sachet dried yeast approx. 7g
4 tbsp. extra virgin olive oil
200ml Water
25g fine sea salt
1 sprig rosemary
25g chopped wild garlic
50g chopped red onion
Method
1. Place the flour, tsp salt, yeast, one tbsp. olive oil into a large bowl mix together then slowly add the water knead with your hand to form a dough then continue to knead for approx. 5 minutes.
2. Stretch the dough by hand, tuck the sides into the centre. Repeat the process about five times.
3. Tip the dough onto an oiled work surface and continue kneading, return to the bowl & cover with cling film. Place in a warm place to rise until doubled in size.
4. When risen place onto a baking sheet and press into a round shape flatten out, then leave to prove for 30 minutes.
5. Whilst the bread is proving finely chop the onions, garlic and rosemary gentle sweat off in a pan allow to cool, then add the remaining olive oil.
6. Place the bread into a preheated oven at 200C. Drizzle the olive oil, wild garlic, onions, rosemary over the bread sprinkle with the sea salt and cook for 20 minutes.
Recipe by our Craft Trainer, Nick Davies. 
For more information about our Apprenticeships contact Cambrian Training Company at cambriantraining.com or Tel: 01938 555893