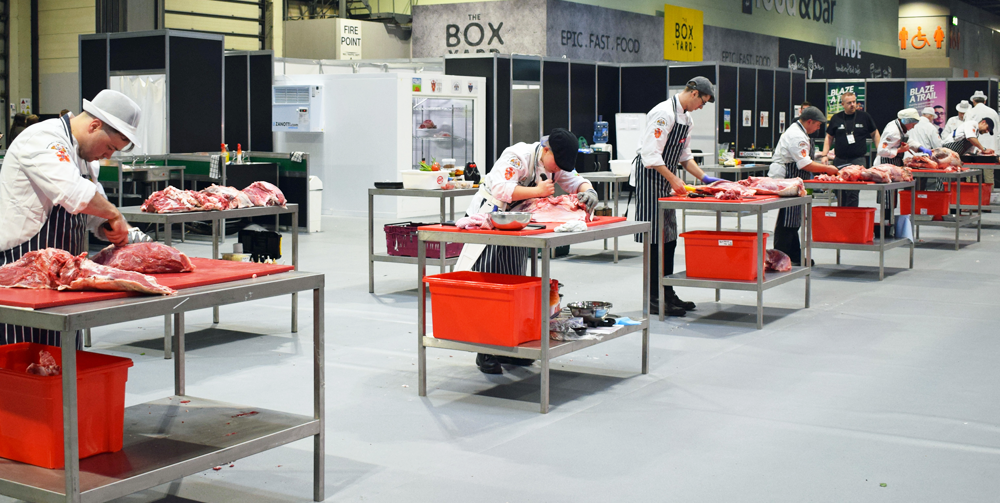 Picture caption: Butchers competing in last year's WorldSkills UK competition.
The deadline for a competition to find the UK's best butcher has been extended to May 5 because of the Coronavirus crisis.
The closing date for the Butchery WorldSkills UK Competition entries was originally scheduled for April 2, but WorldSkills UK has decided to extend this deadline by a month to relax the time pressure on people wishing to enter all its competitions.
"Our number one priority is the safety of all," said Katy Godsell, Cambrian Training's marketing manager who co-ordinates the butchery competition for WorldSkills UK. "We have taken the decision to postpone all heats scheduled between April and June.
"We are working hard with hosts and partners to deliver a great competitor experience and agree alternative arrangements for the heats later in the year, no earlier than the end of August, depending on the virus situation at the time.
"We appreciate that butchers across England, Wales, Scotland and Northern Ireland are busy supporting the heroic work to keep us all fed throughout this crisis. We hope the extension will allow them extra time to complete their competition registrations before the new deadline of May 5."
Online registration is open at www.worldskillsuk.org or to see more information about the competition visit the https://www.worldskillsuk.org/champions/national-skills-competitions/find-a-competition/health-hospitality-and-lifestyle/butchery
WorldSkills UK Competitions are designed by industry experts and are free to enter. Participation in the competitions is proven to enhance an individual's career prospects with 90% of entrants saying that they had seen improvements in their career prospects after taking part.
The Butchery WorldSkills UK competition focuses on the essential skills required for a successful career as a multi-skilled butcher within the food manufacturing industry. Butchers are tested for overall skill, innovation, creativity, presentation, work ethic, method and approach to tasks, carcass and primal utilisation, waste and safe and hygienic working practice.
To enter, butchers need no qualifications, but must not have completed a qualification higher than a Level 4 in Food Manufacturing Excellence or equivalent. They must possess core competencies and the ability to work under pressure in front of an audience.
Each butcher that makes it through the regional heats will represent their college, employer or training provider in the National Finals held at WorldSkills UK LIVE at the NEC, Birmingham.
Organised by award-winning, Welsh training provider Cambrian Training, the butchery competition is supported by an Industry Steering Group and sponsored by The Institute of Meat, The National Craft Butchers, The Worshipful Company of Butchers, Hybu Cig Cymru/Meat Promotion Wales and supported by FDQ.
For more information or questions about the competition please contact Katy Godsell, Cambrian Training's Marketing Manager, on Tel: 07739409311 or email: katy@cambriantraining.com.