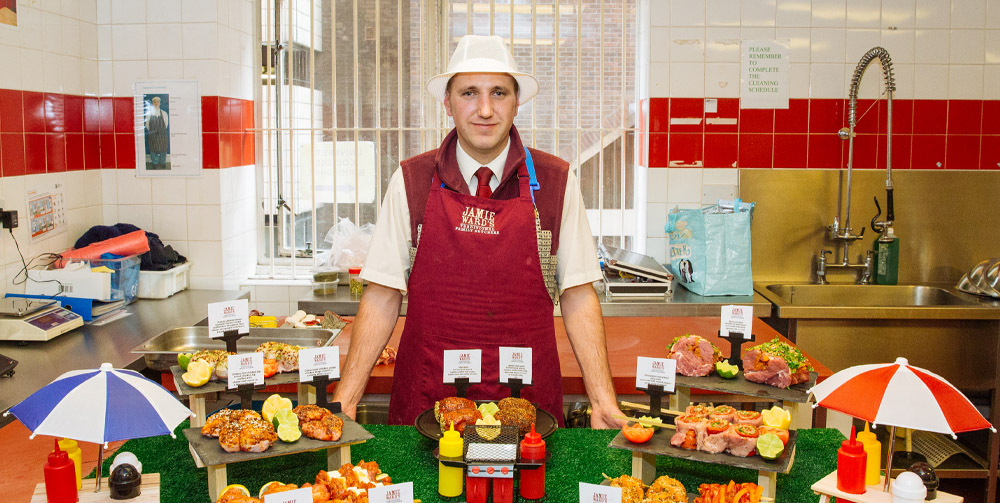 Apprentice Butcher involved in creating the UK's largest Sausage Roll, Peter Smith, on how an Apprenticeship has helped earn him the skills, experience and knowledge he needs to succeed in the Butchery industry.
What important skills did you learn during your time as an Apprentice Butcher?
An important skill I learnt as an Apprentice was how to sharpen a knife – which is vital in ensuring cuts are clean and precise. I also learnt the right way to carry meat in when it arrived from our suppliers.
Did the skills, experience & knowledge you earned during your Apprenticeship help your performance?
All the skills I have learnt through my apprenticeship have shown in my work. From competing in the Welsh heat in World Skills Competition to creating the UK's largest Sausage Roll!
Do you think it helped to earn a qualification in a real-life working environment? If so, how?
Becoming a fully qualified Butcher in a real-life working environment has made me the person I am today. With the knowledge I have gained from my qualification and my workplace, I believe I am working at a really high level.
This, and competing in competitions, has also taught me how to best show case my work, as I have been able to receive feedback and improve where I need to – which is vital in a Butchers Shop.
Would you recommend an Apprenticeship? If so, why?
I would recommend an apprenticeship, as it can give you the skills that could make a difference to your whole life.
I am now always thinking out of the box and will continue to be different to show case what I can do, which is down to the skills I learnt on my Butchery Apprenticeship.