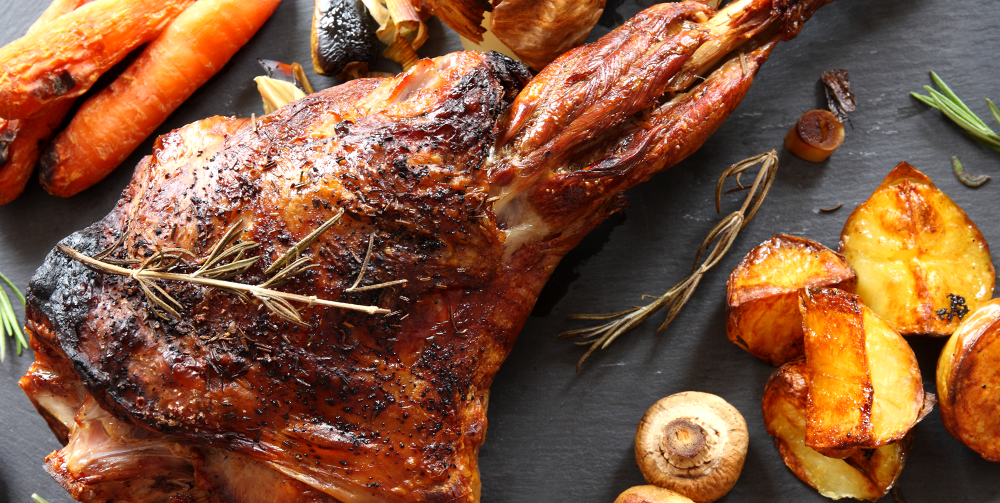 Beer is a fabulous ingredient for cooking with!
Beer is delicious sipped with both sweet and savoury baked goods but did you know that it adds lightness to a batter mix, a rich flavour to soups or stews that makes them taste like they've been simmering for hours and, beers with a sweet or nutty taste, can add depth to desserts.
So, if you are thinking of doing more than making the ultimate beer Welsh rarebit, here is a super simple mouth-watering recipe for your Welsh leg of lamb.
Recipe: Welsh Leg of lamb with Beer, garlic and Rosemary
Ingredients
2 tbsp olive oil
2 kg lamb shoulder (approx. weight)
2 onions, halved and sliced into wedges
4 garlic cloves, thinly sliced
1 large rosemary sprig (or thyme if you don't have rosemary)
1 bay leaf
250 ml Beer – we like a stout for this but any will do.
60 ml malt vinegar
250 ml chicken stock
1 tbsp brown sugar
1 tbsp mustard – optional (any type will do)
Preparation Time: 20 mins
Cooking Time: 210 mins
Serves: 8
Method
Preheat the oven to 160°C.
Remove the rosemary leaves from the stem. Use a small knife to make incisions big enough for a garlic to fit in all over the lamb and stuff the garlic cloves and rosemary into the holes.
Heat the oil in a flameproof, heavy-based casserole dish over high heat. Cook the lamb, skin side down, for 5 minutes, or until the fat is golden brown. Turn over and cook for another 5 minutes.
Strew the onion and bay leaf over the lamb, then season well with sea salt and freshly ground black pepper. Use a large spoon or tongs to push the ingredients around in the pan, so the onion starts to sizzle in the oil. Cook for 5 minutes, or until the onion smells sweet and just starts to colour. If you like, you could spread a little mustard over the skin.
Add the stout, vinegar, stock and sugar. Give the pan a shake to loosen any bits that are stuck.
Cover with a tight-fitting lid, then transfer to the oven and bake for 2½-3 hours, or until the lamb easily pulls away from the bone. Remove from the oven, leave to rest for a while.
Delicious served with your favourite "Sunday Lunch" vegetables or simply with some hot buttered new potatoes and green beans.
We can offer apprenticeships in all types of "Hospitality Services" and "Food and Drink Manufacture" from Kitchen Services and Craft Cuisine to Brewing!
For more information about our Apprenticeships contact Cambrian Training Company at cambriantraining.com or Tel: 01938 555893