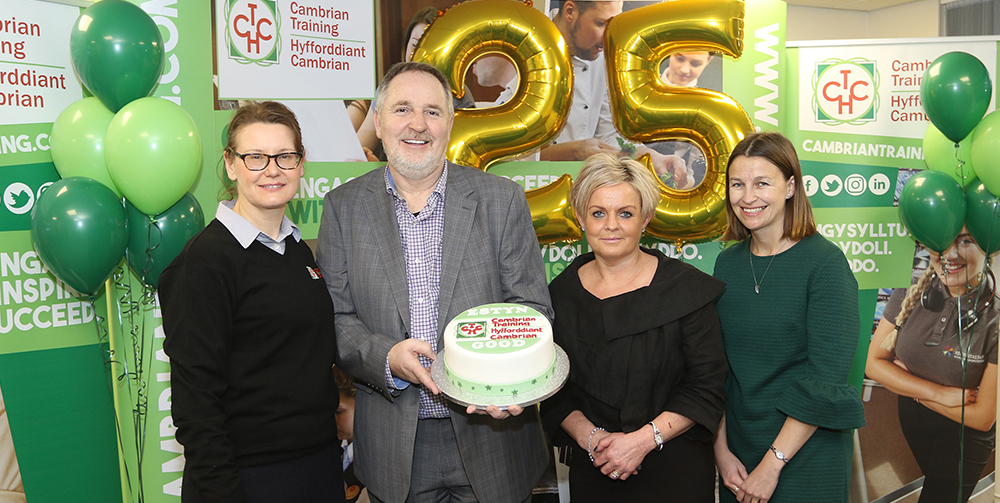 Photo caption: Cambrian Training Directors (l to r) – Faith O'Brien, Arwyn Watkins, Anne Jones, Elen Rees. January 2020.
This week, we celebrate 25 years in the work-based learning industry.
A journey that has seen us deliver a huge range of skills & qualifications, to help support businesses & individuals grow and flourish, throughout Wales.
So where did it all begin?
The company was established back in 1995, in Welshpool, Powys. We started as a subsidiary of Mid Wales Tourism to deliver vocational skills that supported the development of the regions tourism sector.
Named after the famous Cambrian Mountains that rise through the heart of Wales, it was the communities, people and businesses within the region that was at the heart of what Cambrian Training was all about.
With a decline in agriculture and rural depopulation, vocational training and re-skilling were a priority to help strengthen the economic opportunities in rural Wales.
Leading-Training Provider
As Cambrian Training grew, so did its reputation to deliver high-quality training & development programmes throughout Wales, that in-turn support the growing tourism sector.
In 2002, the organisation became an independent company, led by an experienced team, committed to maintaining its base in Mid Wales, while expanding geographically.
Since then, the company has seen drastic growth and widened its work-based learning and apprenticeships programmes into hospitality, food and drink, waste management, business, team leading and management, retail and sales, financial services, equine and animal care, and heath, social care and early years.
Today, Cambrian Training has support hubs located Pan Wales – including Welshpool, Builth Wells, Holyhead, Colwyn Bay and Llanelli.
Skills, awards & achievements
71 skilled members of staff
Living Wage Employer since 2013
Skills Wales Competition Partners since 2016
WorldSkills UK Butchery Organising Partner since 2015 – & 4 medals!
Host & support the Culinary Association of Wales
Lead & train the Wales Craft Butchery Team
A note from our Directors…
"Being the Chair and Managing Director is a huge honour. For someone who chose to follow a vocational route by accessing an Apprenticeship many years ago I will continue to aspire to open up as many opportunities as possible so that the future generations can benefit from a vocational career pathway." – Arwyn Watkins OBE, Managing Director
"As somebody who started with Cambrian Training 23 years ago, and progressed from Apprentice Administrative Assistant to a Senior Management Role & Director, I can say first-hand the importance of hard work and the delivery of skills into the workplace. I feel privileged to have played a part in building & growing a company which is dedicated to these things – and look forward to many more years of supporting individuals, Employers and the community, all over Wales." – Elen Rees, Director of Finance & Administration
"It is a privilege to be a part of such a successful organisation, evidenced by Estyn's judgement as "good" last year. The report provided a glowing endorsement of Cambrian Training, our quality staff and our sub-contractors." – Anne Jones, Director of Quality & Skills
"I'm continuously impressed by the commitment our team has to making sure the skills they deliver are tailored to help both the individuals and Employers grow. I believe this has been a significant reason why Cambrian Training is now one of Wales' leading Training Providers." – Faith O'Brien, Chief Operating Officer