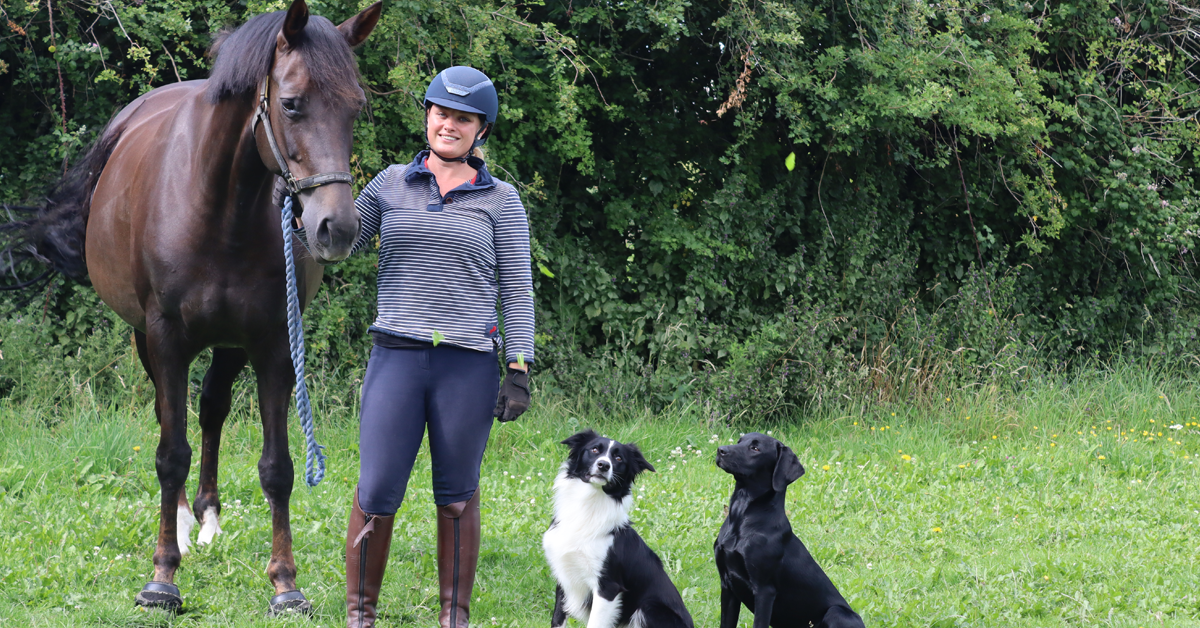 With tonight being Bonfire Night, we at Cambrian Training have been giving a lot of thought to animal welfare as many of our pets will get scared when they hear the noise from the fireworks. We discussed what we could do to highlight this issue and started by asking Sarah Flynn the Contract and Operations Manager in Wales for Haddon Training to share her thoughts on this. She told us that this is a big issue at this time of year and one that terrifies all horse owners.
Sarah went on to say that horses don't understand what fireworks are and just hear the terrifying noises that they make, which frightens them. Horses have a natural instinct that is the 'fight or flight response', they can't fight fireworks, so they try and run from them. Horses have lost their lives by running in panic and injuring themselves or having heart attacks, so it is crucial that if you know of horses in the surrounding areas/fields where you are planning to set off fireworks, that you pre-warn the owners, so they can bring their horses in.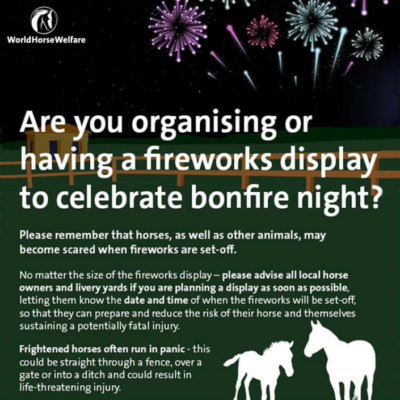 Even when in, they are terrified and it can cause immense stress, but by being in, horse owners can limit the damage they cause to themselves by running. It also really helps if people stick to the 5th November and do not let fireworks off on the build up to or after the date, as this only prolongs the stress on the animals. Sarah kindly shared a poster created by the World Horse Welfare that gives some important information to help us appreciate what horses go through and how we can all help.
Sarah also mentioned cats and dogs, they can also get very panicked and some owners have had to resort to drugs from their vets to sedate them so that they can cope with the noise. This is the issue when fireworks are then let off every day of the week before and the week after. It must make caring for your pets stressful for the owners as well.
As a result of Covid we may be required to keep our Bonfires smaller and more confined to family units, however this for Sarah only adds to the problems of animal welfare because lots of smaller bonfires may well be far worse than the odd big display. If people are encouraged to have their own small bonfires then surely this will affect more animals. So perhaps this year more than ever we should consider our animals and animal owners before planning our Bonfire night and to reduce the number of fireworks used.
One thing we at Cambrian have come up with, as an idea for the kids, would be to make some sweet treats which look like fireworks instead and to teach your children about the dangers of the real thing not only for themselves but for our defenceless animals as well!! One of our Hospitality Training Officers Will came up with this incredible recipe and we hope you will enjoy making them too. Will's Sweet Treats >>
We work in partnership with Haddon Training who deliver apprenticeship qualifications in Horse & Animal Care! So if caring for animals is your passion, why not have a look at how they could help you with a career with horses or animals today >>