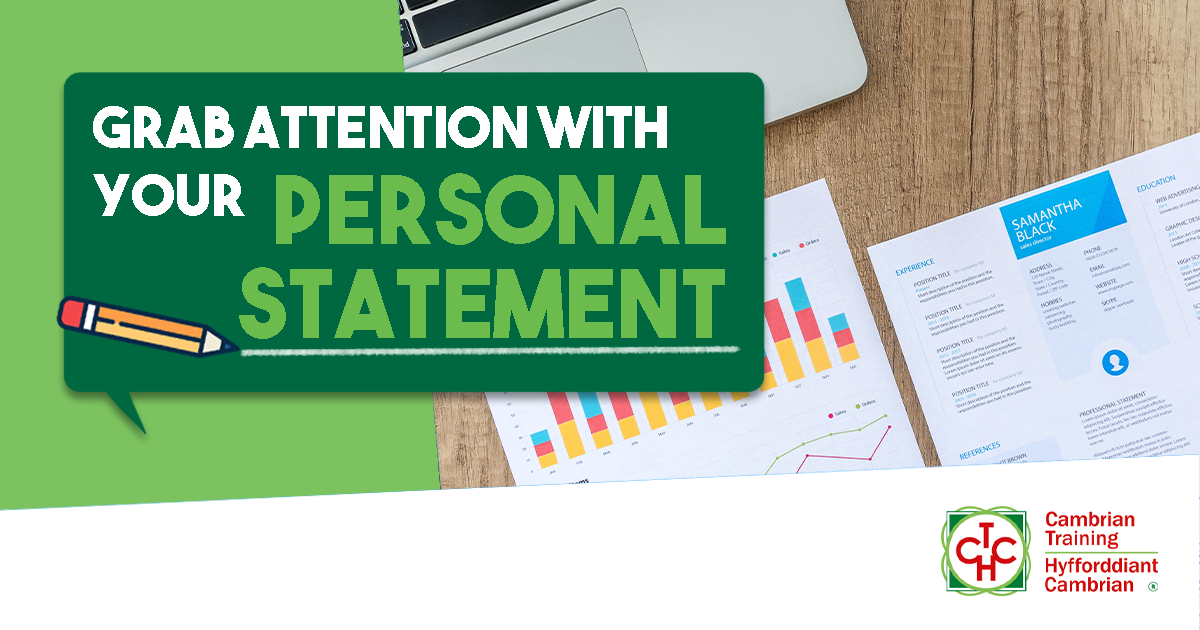 You've taken the time to pack your CV or job application with your achievements, skills and education. Your personal statement is the final flourish that can give your application the personality to make you stand out. But it's not merely an add-on or bonus to your skills – it's often the 1st thing employers will read, and how you can get them to read your CV or application with interest.
So that's why it's incredibly important, whether in your CV or application to write an attention grabbing personal statement that shows in a captivating way that you're the right person for the job.
So we at Cambrian Training racked our brains and talked to our expert training & business teams who see 100s of applications, about the things that will make you write a 1st-rate personal statement.
Ask yourself what you should include.
If you don't know where to start, asking some questions will help structure your statement and what you quickly want to get across. For example –
What's the most convincing reason they would hire you?
What's different about your skills or experience from others?
How did you succeed in difficult challenges previously?
How long have you been interested in this kind of role?
What makes your story unique?
Keep it snappy
You don't have time to write an essay and your potential employer won't read one. Keeping your statement punchy will make it more engaging to read and hinting at the detail of your skills and experience you will include in your application or CV.
So keep it short! 2-4 sentences in a short paragraph should be enough to do what you need to – we recommend 50-150 words.
Structure it for the employer
As much as your statement is about you, in another way, it should really be about the employer, and how you as a candidate are going to be the perfect person to meet their needs. Take the time to think about your skills, experience & qualities and then what the employer is looking for, and match them up.
You can break this down further into things such as how much experience you have, the specialist or relevant skills you have, the industries you've worked in, your personal qualities relevant to the role and what qualifications or training you have. The answers to these questions will help you decide how to sum up and fit your qualities to the role.
Make a Captivating start
Your 1st sentence needs to bring the employer to want to read on and find out more, so make sure it's compelling and sells your skills. Ideally, include a job title, your years experience, specialist expertise and positive, dynamic language. For example;
"Innovative Marketing Officer with 2 years experience creating video & animated content for local businesses and national companies."


What to include
You have little space, so only include the most salient, important bits of information about yourself. This could be –
Skills specific to the job (avoid generalised skills like "people skills" or "management experience".)
Skills that make you stand out. What do you have that few others applying don't?
Match the job advert. Follow the requirements given and show evidence of the skills & experience you have that fit these.
What you want out of the role. Help the person reading understand why you're applying, and why you'll want to succeed.
Things that all employers want – your experience, communication skills, organisational skills, teamwork, reliability & problem solving are things that most jobs need. Remember to be specific and give concrete examples of these things and relate them to the role.
And what not to
Avoid general or cliched language or buzzwords. Words that could describe any person in different roles, and not you specifically won't paint a picture.
Statements used for other jobs. Employers want to know how you fit their job, not the last one you applied for. So make sure to take time to tailor your statement.
Exaggerate. You will get found out at an interview if you over-embellish or say untruths. Just don't.
Personal details. An employer only needs relevant information – so saying where you live or if you're married is not needed.
Double, triple, quadruple check!
It's easy to miss small mistakes in your applications, especially if you're writing a lot. But an employer will notice! Give yourself time to check your spelling and grammar, and ideally ask a friend to look over your statement – they'll be able to see any mishaps.