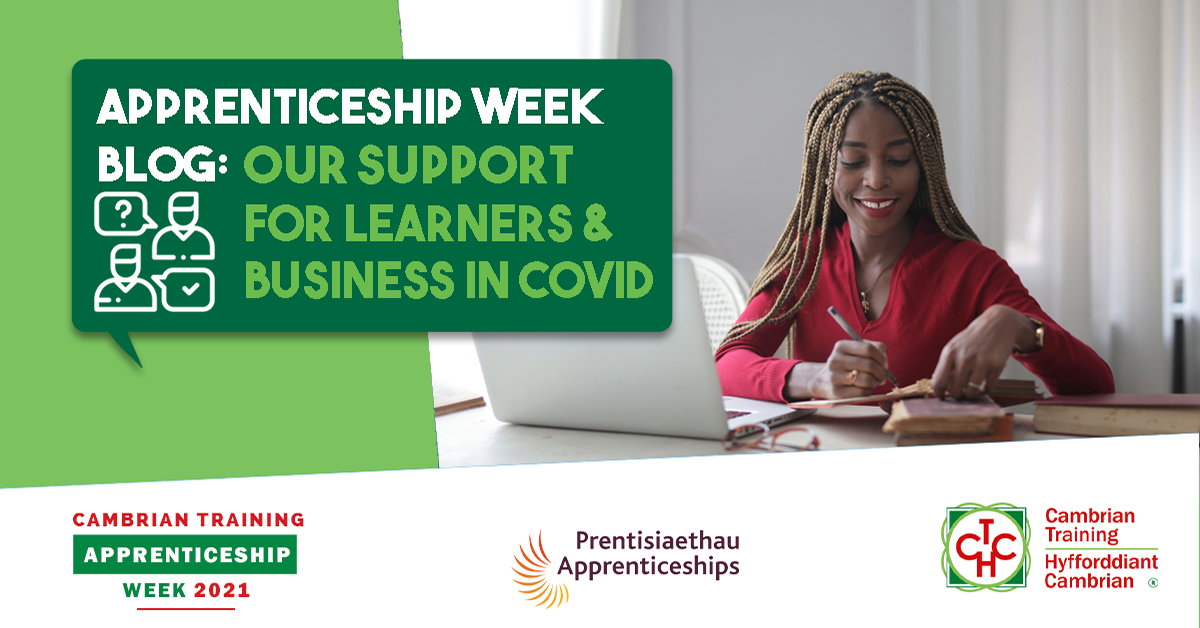 Hi, I'm Sarah Jones a Training officer for Cambrian Training Company. I deliver training in the Business Skills sector – Levels 2, 3 and 4.
I deliver Customer Service & Business Administration, both levels 2 & 3, Team Leading level 2 and Management levels 3 and 4.
Currently we are doing everything over the phone or via google meets/skype etc – all qualifications (except L4) have onscreen testing, so we have had to do those in between lockdowns – or we have decided to leave them until the end of the course.
Training has changed a lot over the last year, we have had to adapt to not only how we work, but how our apprentices are working too; some are furloughed, some are working from home, and some are working flat out and have no time to do their qualification work with us as their work life balance has tipped towards work heavily due to the pandemic.
It has been difficult being shut in an office at home, I'm a social person and I have always really enjoyed visiting my apprentices, seeing them at work in their roles and watching them use the skills they've learnt to help push them forward in their roles; for me it's lovely to evidence this for their portfolios and it's also very rewarding – being stuck in front of a computer each day is not my ideal way of working.
But there are positives; I am now available much more for my apprentices as I'm not on the road travelling from place to place, I'm able to respond to them much quicker and interact with them more often than I used to, using technology more has resulted in a lot less paper being used and I've certainly reduced the mileage on my car!
The pandemic has made me and everyone at Cambrian Training realise that we don't have to do face to face visits every month, but by keeping in touch on the phone/text/email or by video calling we can be just as effective, I also think an hour on a video call with my apprentices is really beneficial as we have that whole time to talk about their development and their qualification, often when I used to visit them at work we could be interrupted by tasks within the work place which would slow the qualification down a little.
How have we adapted – and how have our learners adapted?
Like everyone across the world we've all had to adapt – Cambrian Training Company were aiming to be more Green and go paperless – and look at us now! No one uses paper now; in fact look how we've all adapted to technology! Chatting over the phone, Google Meets; Zoom; Skype: Facetime; we've used them all.
Along with my colleagues we've been laughing (and crying at times) and this has become our new normal; I've found that some people are struggling with motivation; but heck; who isn't – I am one of the first to admit that I struggle – but its Ok not to be OK!
We are all in this together, we are not all in the same boat and we don't all have the same paddle – but we are all focussed on doing the best we can; in the best way we can … that is what I tell my learners; just do your best; that's all anyone will ask of you; if you need help; ASK – if I can't help then I can point you in the direction of someone who can. That's what learning is all about. Asking questions and finding answers.
I've got to be honest. I do love my job; it's great to chat to real people who are just trying to improve themselves, their knowledge and get on in the world. We can help apprentices believe in themselves and learn new skills. Some older people think (like I did) that 'I'm too old to learn'; but that's not true. Throughout my career at Cambrian Training I've delivered apprenticeships to people older than me – you are never too old to learn; and there is that old saying "if you don't move forward you'll get left behind "
In business, things have changed massively in the last 20 years and even more so in the last 12 months. If someone had told me that I could do a Diploma of Higher Education foundation degree (DipHE) whilst at work, fully funded without having to attend a college or university; I'd never have believed them … But here I am doing my Level 5 Management at 50 years old – all fully funded and alongside my day job!
Why should people sign up to apprenticeship? Why wouldn't you? – Its fully funded, so won't cost you financially; you learn on the job and you are awarded a recognised qualification to show your employer and any future employers that you're not a 'plodder' that you are developing your skills so you don't get left behind.
I have worked with some fantastic businesses and apprentices over many years now, and I still keep in touch with a lot of them. I have seen people who started an apprenticeship with me when they were straight out of school, shy and nervous and are now Managers. It's lovely to hear when people I've worked with are achieving their goals.
To find out about becoming an apprentice visit our current vacancies page – HERE
Are you an employer looking to take on new staff or upskill existing staff – get in touch – info@cambriantraining.com