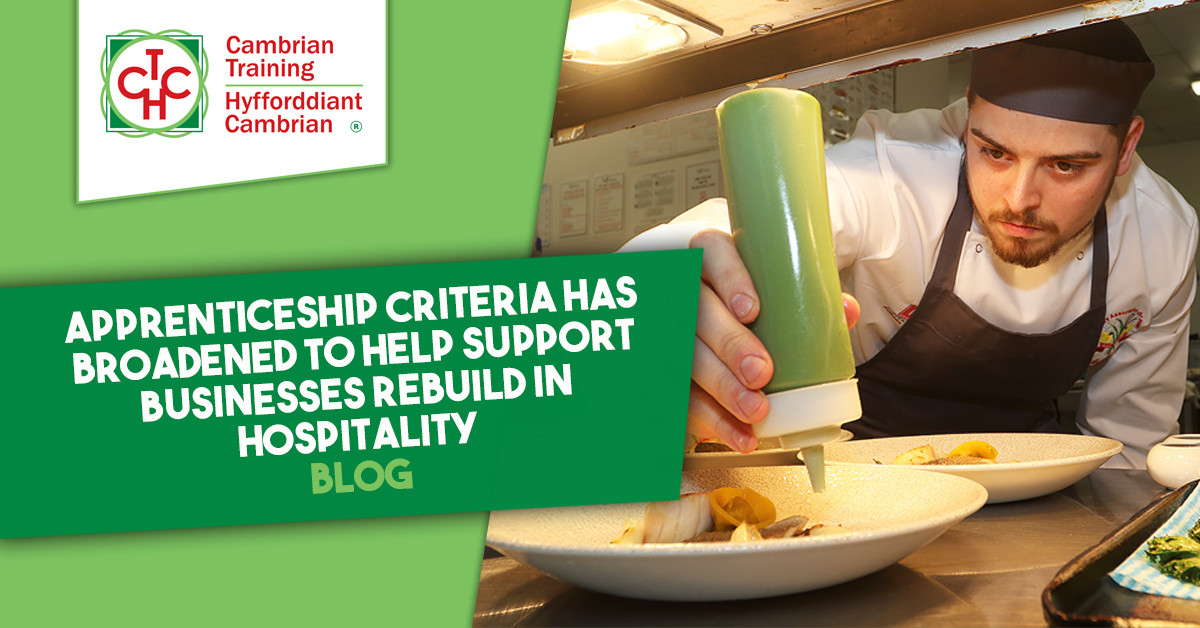 Criteria to employ an apprentice in Wales within the hospitality sector has recently been amended in order to help businesses rebuild after the COVID pandemic. Previously the criteria meant that existing staff over the age of 25 could only undertake a level 2 within 6 months of starting their role & a level 3 within 12 months. However recently the Welsh Government have been in discussions with the hospitality sector and understand their need for existing staff and support to be able to re-open and have access to all apprenticeship qualification levels for all employees to help ensure their workforce is robust and trained to the highest of industry standards making recovery faster and more effective as part of the 'Let's Shape the Future' plan.
Apprenticeships are a great choice for both employers and employees, ensuring personal and career development for employees whilst creating a strong, able and highly skilled workforce for businesses, confident in knowing that the skills their employees are learning are based around their business model. Our apprenticeships are completely work based and require no day release to college, employers get to have their workforce on the ground learning exactly how the business runs day to day, and even better the employees are earning while they learn.
We can help to support your business through work-based learning offering a variety of apprenticeship qualifications within hospitality, training staff in all areas including; Chefs, Front of House, Cleaning, Managers & more, we are able to offer apprenticeships from levels 2-5, a level 5 is equivalent to a foundation degree.
Our dedicated team have over 300 years combined experience and our training approach is tailored and flexible, the qualification content will be created to be specific to your business needs, ensuring that what your employees are learning will directly benefit your business growth and we always promise to work around your business schedule, helping minimize distribution to your business.
As well as this new move to make it easier to employ and upskill staff, the employer incentive has also recently been extended til 30th September 2021 allowing employers to receive up to £4,000 for employing a new apprentice. (funding levels depend on criteria)
As a company we are excited about this change and the extension of the incentive, our Managing Director Arwyn Watkins, OBE says that he supports the move and is delighted for our employers in hospitality, "this now means that we can deliver our full range of funded hospitality work based apprenticeships to both new and existing staff of all ages, irrespective of how long you have employed them for"
To find out more about hiring an apprentice or upskilling your existing staff please contact our experienced team – info@cambriantraining.com