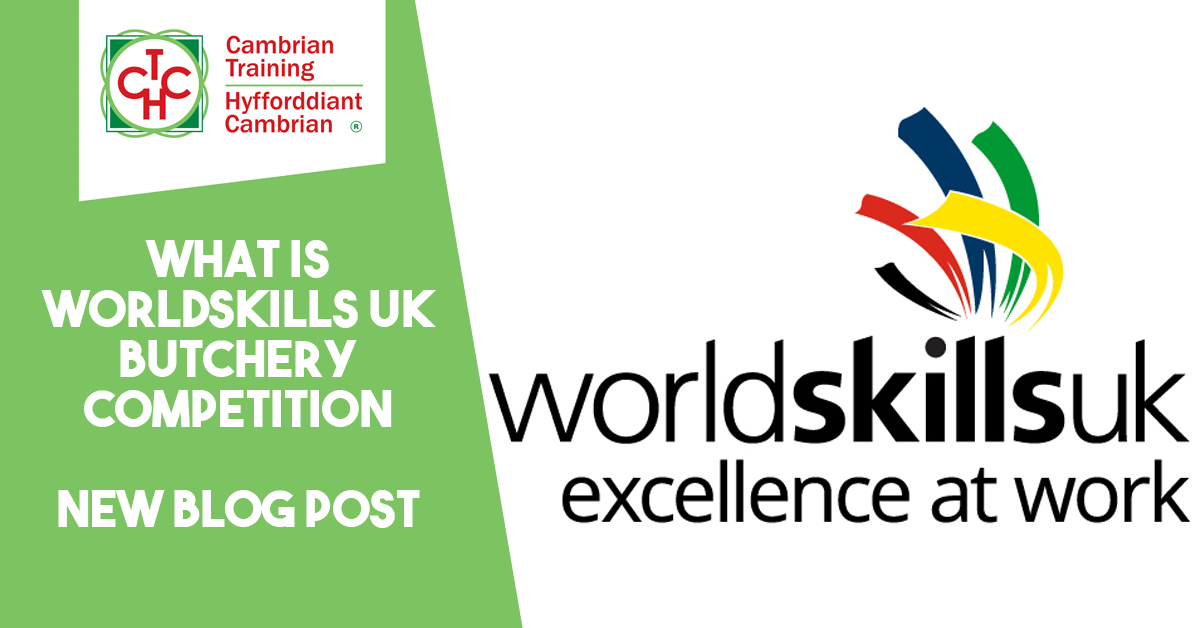 WorldSkills UK is part of WorldSkills a global movement in over 80 countries helping to raise standards in apprenticeships and technical education so that more young people can get the skills they need to succeed.
The skills competition provides an opportunity for individuals to compete against others across the UK and demonstrate their talent within their sector. Each individual will be scored by experts and will see competitors demonstrate core skills and competencies valued by employers including team work, problem solving, time management & working under pressure.
Cambrian Training are proud to be part of the World Skills UK competitions, being the organising partner for the UK Butchery competition.
The butchery competition will focus on skills required for a successful career as a multi-skilled & disciplined butcher, testing competitors hand-eye coordination, health & safety knowledge, attention to detail, safe food handling, primary & secondary butchery, sausage making and the producing of innovative products.
Previous competitor & Winner Matthew Edwards competed in World Skills told us about his experience & gave a few top tips for others thinking of entering the competition;
"Competing at World Skills level really showcases the best that the UK butchery scene has to offer. When I competed at the World skills competition I was in it to win it and I think that is the mentality you need in order to keep up with the talent of all of the butchers in the competition. I won the Welsh heats and ever since qualifying for the finals I worked at it every day for 6 months whether that was practising making the products or scrawling the internet to find new ideas or look at current food trends that I could add into my displays.
My advice to anyone thinking of competing would be to work to the old saying "practice makes perfect". Time seems to speed up in competitions and so knowing exactly what you are doing at every step is crucial. Also, look at current and future food trends as this can help you to choose some new and exciting flavours/products that the judges have never seen before. When I am thinking of a display for each category I find it a lot easier to pick a theme as you can choose your flavours/products based on that theme and also the garnish and props to really make your display standout"
If you're a butcher in the UK and keen to show off your talent on a world stage why not register for the competition today – worldskillsuk.org/competitions/butchery
For more information about the competition email the team – info@cambriantraining.com and we will be happy to answer any questions you may have.