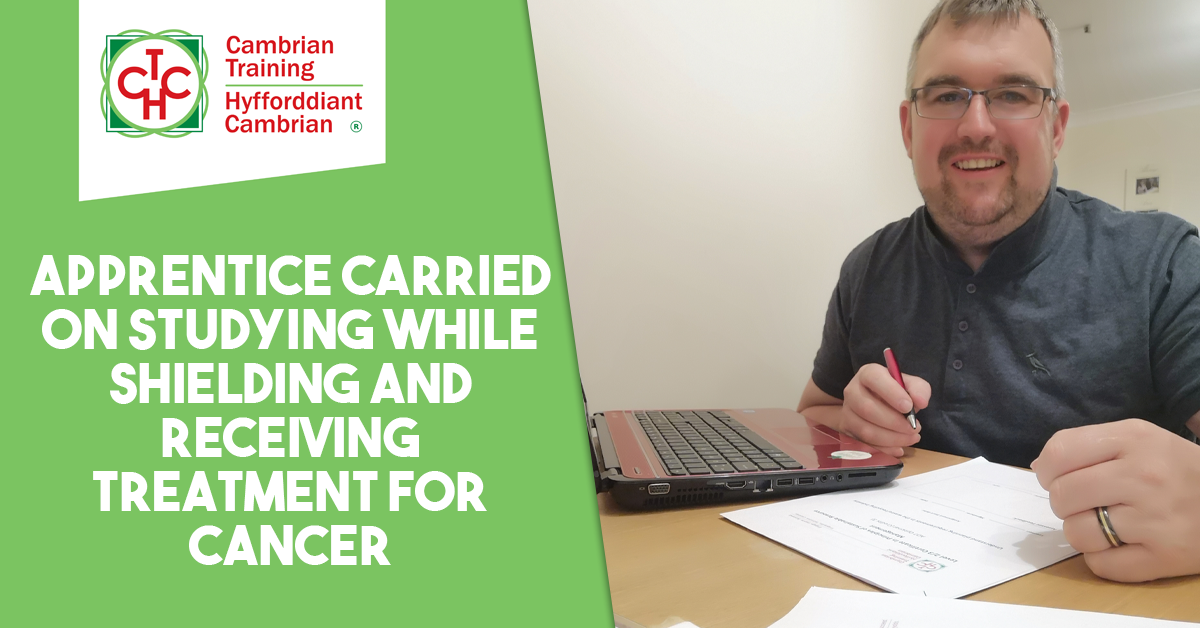 An apprentice, working for Powys County Council, who carried on studying while shielding and receiving treatment for cancer, has been short-listed for an award by his training provider.
Waste and recycling operative, Graham Jones, 38, who is based in Rhayader, has been studying to achieve level two and three qualifications in Sustainable Recycling Activities with Cambrian Training, and is now one of three learners in the running to be named the company's Apprentice of the Year.
His studies should have taken three years to complete, but the inspirational grandfather gained his qualifications in just over two years and did not let his health problems hold him back. Graham was forced to spend time at home last year shielding because of his sleep apnoea and then discovered he had testicular cancer, resulting in an operation and chemotherapy.
His training officer with Cambrian Training, Jay Syrett-Judd, said Graham stood out not only because of the quality of his work but because of his dedication to succeed in the face of adversity.
He added: "Throughout both qualifications, Graham submitted all his work on time, kept all appointments with me and most importantly demonstrated a high level of knowledge and competency in his job role and understanding of waste management."
Graham, who has worked for the council for nearly nine years and lives in Llandrindod Wells, said he decided to study for the two qualifications to help further his career and hopes to step up to a supervisor's role soon.
"My aim is to keep trying to progress and educate myself as much as I can and keep moving," he said. "I was extremely pleased to be nominated for the award because it just shows that with a lot of hard work you can get recognised and I'm really looking forward to the awards ceremony!"
And after his close call with testicular cancer, Graham is also keen to remind other men to check themselves for lumps and to go and see their GP if they have concerns about their health.
He discovered the lump after his grandson jumped on his lap and it caused him some unexpected pain, but it prompted him to act, and he has since made a good recovery.
Graham said: "It was not something (testicular cancer) I ever dreamt of getting and you see all the posters and adverts up at sports events telling you to check yourself, and it is just something you don't think about. But I got through it and it's all good so far."
He has been applauded by Powys County Council for his success in being nominated for the Cambrian Training award and for his commitment to improving his skills and knowledge.
Cllr Heulwen Hulme, Portfolio Holder for the Environment, said: "I expect many people will find Graham's story inspiring and we wish him every success at the awards ceremony when it takes place.
"He has shown great dedication in continuing to study while battling with ill health and has been courageous in his willingness to speak out about his own experience with cancer, in the belief that it will help others. Good luck Graham!"
The Cambrian Training Awards ceremony was due to be held on 28 July but was postponed due to COVID-19.
The Apprenticeship Programme in Wales is funded by the Welsh Government with support from the European Social Fund. To find out more about apprenticeships get in touch with the team – info@cambriantraining.com
PICTURE CAPTION: Graham Jones studying at home while shielding in 2020.