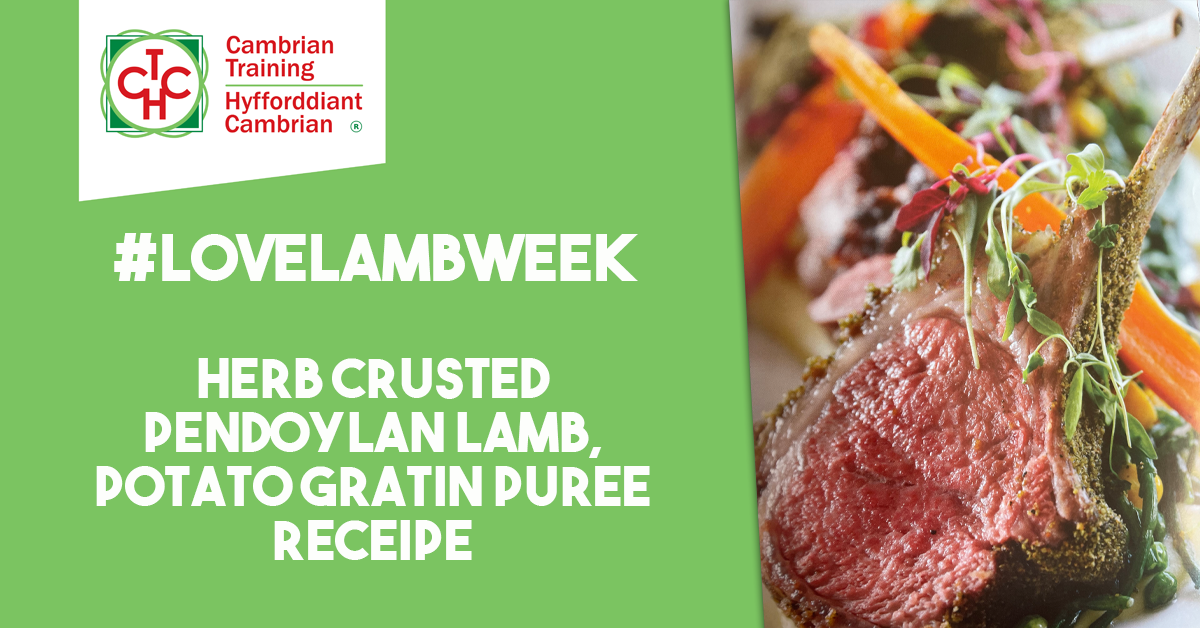 It's Love Lamb Week and we are celebrating by creating Herb Crusted Pendoylan Lamb, Potato gratin Puree, why not have a go at this recipe yourself.
Ingredients
serves 4
Lamb
4 bone rack of lamb
2 8oz square cut rump of lamb
Potato Gratin Puree
5 Large Maris piper(peeled)
1 head of garlic (Fine diced)
1 bunch thyme (Picked)
1tsp Salt
1tsp Cracked black pepper
200ml Double Cream
Vegetables
100g Peas
100g Samphire
100g Sweetcorn
1tsb Welsh rapeseed oil
1 Pack baby carrots
Herb Crust
1 bunch coriander
1 bunch parsley
1 bunch lovage
Sourdough off cuts
Jus Roti
200ml White wine
100g Salted butter
Method
For the Lamb
Preheat the oven to 180 (Fan)
To prep the lamb, remove any excess meat off the bones and scrape them clean with the blade of your knife. Score the fat on both the rack and the rump and season generously.
Pan fry both pieces until evenly golden then place in the oven:
Lamb rack for 12-14 minutes
Lamb rumps for 14-16 Minutes then leave to rest
For the Potato Gratin Puree
Slice the potatoes on a mandolin to approximately 1-3mm. Mix with salt, pepper, garlic and thyme. Layer into a deep tray overlapping each piece slightly until the tray if full or you run out of potato. Cover with the cream and bake for 1 hour until a small knife passes through with ease then place through a potato ricer to make the puree
For the Herb Crust
Place the bread into a food processer and then tear up the soft herbs and blitz all these together until a green breadcrumb is formed. Spread onto a baking tray and bake for 10 mins to dry out then set aside to cool.
For the Vegetables
Halve the carrots and blanch in salted boiling water until al dente. Mix the peas, samphire, sweetcorn in a pan with a tea spoon of rapeseed oil and cook until the samphire has slightly wilted.
For the Sauce
Take the pan you cook the lamb in and deglaze with the white wine removing all cooking residue, pour in all cooking juices and begin to reduce. Once the mix has reduced by half, add in the cubed butter cube at a time an emulsify to thicken.
To Serve
Swipe the puree over the plate, slice the rack and rump. Brush one side of the rack with Dijon mustard and dip into the cooled herb crumb. Arrange onto the plate with a line of the vegetable mixture, baby carrots and then drizzle generously with the Jus roti.
If you love cooking why not think about a career in Hospitality, we have lots of job vacancies open take a look at our jobs page HERE for more information