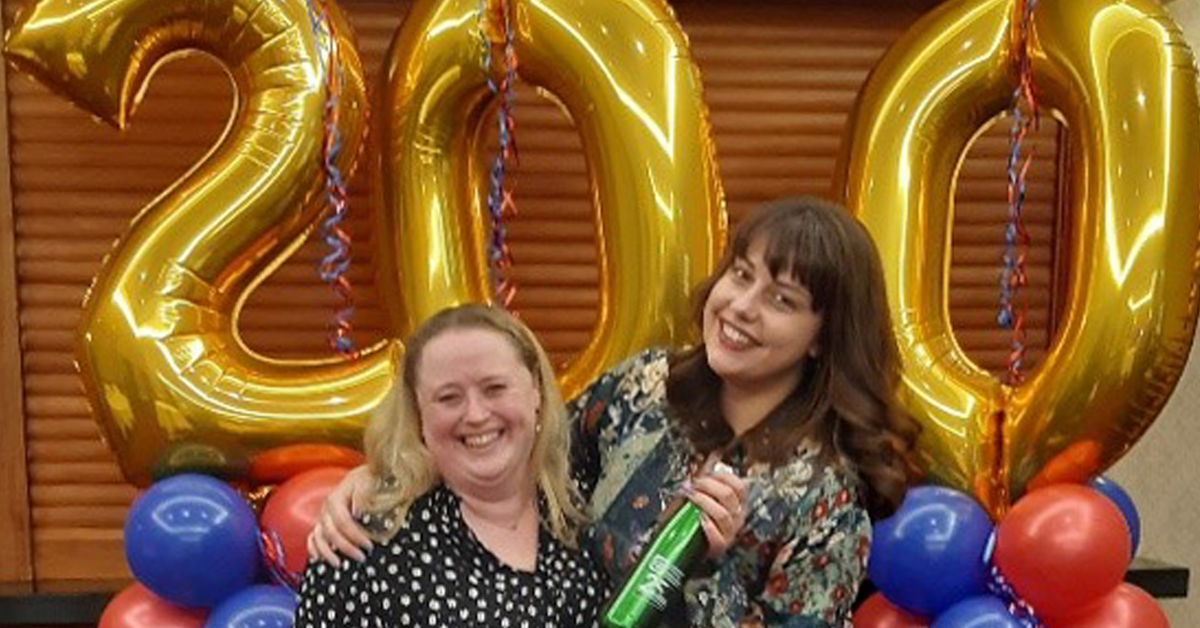 This February, the Celtic Collection hosted an extra special event to celebrate over 200 apprenticeships since the luxury hotel's doors opened in 1982. This alumni event brought together past and present apprentices throughout the years to show their appreciation and just how far they have come in their careers.
This impressive bunch celebrated in style at the 5 star Celtic Manor Resort in Newport, where they excitedly discussed their individual successes over drinks and canapes. Among them were Dental Receptionists, Sous Chefs, Police Call Handlers and Restaurant Managers. Acutely showing just what an apprenticeship can do for your career and future.
It Will Set You Up For Life, Ben Jones 
Ben joined the Celtic Manor Resort in 2012 as a culinary apprentice. Ben had no previous experience but a strong interest in all things cooking. He was one of 20 culinary apprentices who joined at the same time with many of them having gone on to great things, with Ben being no exception.
"It was challenging but thoroughly enjoyable. I loved the camaraderie of the kitchens and my head chef and the Cambrian Training assessor gave me such great support and guidance. After finishing the level 2, I went on to do my level 3 and continued to build from there. I am now Sous chef at The Black Bear in Bettwys Newydd – a Michelin Plate restaurant that this year was in the top 47 restaurants in the UK. My ambition is to help my team get our first Michelin star. Would I recommend an apprenticeship qualification to budding chefs out there? Absolutely. It will set you up for life!"
Learning Whilst Earning, Rebecca Lewis
Becky joined the first ever cohort of Hotel & Hospitality Apprentices at The Celtic Manor Resort in 2017. As part of this role, she succeeded in gaining her Level 2 in Hospitality Services and says this about the experience:
"We got the opportunity to experience all operational departments within the Resort, from Reception to restaurant, Concierge to Housekeeping. It was great to be able to see what went on in all departments – and the work we did was our evidence for our qualification portfolio. It really was 'learning while earning'. The qualification took place in work time so there was no pressure to do any work in my own personal time. We had some written tasks, but a lot of it was about demonstrating to our assessor that we were able to do the task -like make a cappuccino, present a bedroom to standard etc. We took lots of photographs!"
Becky felt that the work and qualification experience had a tremendous effect on her – especially in building her confidence and self-esteem. Becky currently works as a Dental receptionist and categorically states that the apprenticeship helped her move into this role; even her line manager confirmed it on her first day!
She is now considering another apprenticeship and is currently reviewing what best pathway to take.
Confidence Boost, Ffion Roberts
Ffion also joined the first cohort of Hotel & Hospitality Apprentices at The Celtic Manor Resort in 2017. As part of her role, she succeeded in gaining her Level 2 in Hospitality Services and only had positive things to say.
"The whole role and qualification experience was a real eye opener for me. I truly got a birds eye view of all things hospitality. The role and the course were really well supported and family and friends quickly noticed how much more confident and self-assured I was. The qualification helped me develop my problem-solving skills and I became far more agile in my way of thinking. I learned to handle conflict with confidence, helped me manage my stress and how to keep calm. I loved the whole experience. I am now working in the Police as a call handler and I use the learning from my apprenticeship daily! I would recommend anyone to do one without hesitation."
Growing As a Person, Phoebe Swaddling
Phoebe began her Celtic Journey in 2013 as a Food & Beverage Associate, swiftly being promoted to Chef de Rang a few months later. In this role she began her Apprenticeship Journey by signing up to a Level 2 Hospitality Services pathway. Over the next few years, Phoebe went on to complete her Level 3 Hospitality Management & Supervision qualification by which point she'd been promote into the role of Senior Hostess at The Celtic Manor Resort's Olive Tree restaurant. On completion of her Level 3, Phoebe had the honour of being nominated as Apprentice of The Year in 2017.
This qualification set Phoebe up well for an opportunity to move into a different area of hospitality – Front Office. On the back of her qualifications, she was very soon offered a role at The Coldra Court Hotel as a Front Desk Supervisor and since has moved into her current role of Billing and Control Assistant within the Finance team.
When asked if she would consider doing another qualification she stated: "OMG – yes! In fact I want to sign up for the AAT Level 2 which will be a great opportunity for me to gain further qualifications for my current role. When interviewed for my current position I was able to speak about my achievements with pride and I was able to showcase how they enabled me to grow personally as well as professionally. For anyone considering an apprenticeship I say DO IT! You're not only learning about hospitality but you're learning about yourself and growing as a person."
Best of Friends, Karen Murray and Cherie Hale
Karen Murray and Cherie Hale started at The Celtic Manor Resort within a few months of each other and became the very best of friends from the get-go. Karen came into the business as Assistant Manager in The Olive Tree while Cherie joined as a Food & Beverage Associate in Merlin's Bar. Whilst Karen arrived with a level 3 Hospitality Management & Supervision qualification under her belt, she soon persuaded Cherie to embark on a level 2 Hospitality Services apprenticeship; and they never looked back.
"The very very best things for both of us from our Celtic Journeys have been the qualifications we gained and the fact that we found our best friend in each other!"
Karen continued her development through the Level 4 Hospitality Management qualification and went on to be assistant manager at The Resort's two rosette Steak on Six restaurant.
When asked how their qualifications shape them they said: "From very early on, friends and family began to see a difference in me. More confident, patient, focused, the change was quite easy to see. With an apprenticeship you see your progress on a monthly basis. Your assessor spends time with you, reviewing what you've worked on, supporting and offering help to get you to the next step" says Karen.
Cherie agrees by saying that as well as practical skills the apprenticeship opportunities influenced her people skills particularly. The confidence she built allowed her to believe in her own abilities much more – so much so she applied to join The Celtic Manor Resort's Operational Traineeship Program in 2017; and was accepted!
"My apprenticeship experience definitely influenced the way I performed at interview as well as demonstrated to the program leaders that I was someone who wanted to keep learning. And it's continued. Can you believe it? Twelve months ago I was appointed as Manager of Brewdog House & Kitchen Micro Brewery in Cardiff. Thank you Celtic Manor Resort and Cambrian Training for the great opportunities. I am where I am because of these two great businesses!"
To learn more about how your business could benefit from apprenticeships, email now on info@cambriantraining.co.uk or give us a call on  01938 555893
Or if you're thinking of starting your apprenticeship journey, check out the full range of apprenticeships on offer at the Celtic Manor here  or all over Wales by clicking here