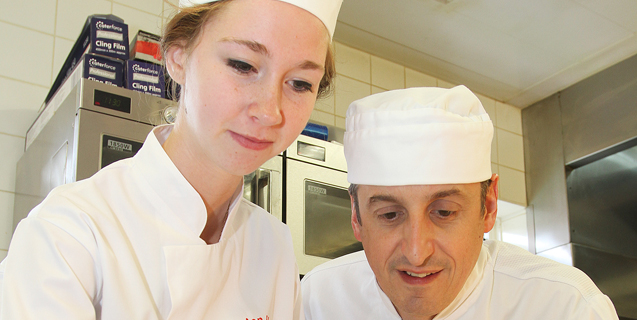 18-year-old Rhiannon Morris has gone from making Sunday roasts at home as a young child to becoming an award-winning apprentice chef at The Lion Hotel in Llandinam.
Rhiannon, who lives in Llandinam, started work at the hotel kitchen when she was 15 while she was studying for her GCSEs. She carried working on at the hotel part-time while she went to her local college to study a BTEC in catering.
She decided that she wanted to gain more practical experience than her college course could give, so Rhiannon became a full-time employee at The Lion Hotel and had the opportunity to study for an apprenticeship under the guidance of chef proprietor Nick Davies.
Through The Lion Hotel's Craft Cuisine apprenticeship, Rhiannon hasgained the grounding to become a professional chef. Since then she has won national competitions with Nick and is continuing to develop her culinary skills.
She said: "I've always loved cooking. When I was about four or five I used to stand on a stool in the kitchen so I could reach the worktop and bake cakes with my nan. I also used to make Sunday roasts for my family fairly regularly so I've been used to preparing food from a young age.
"I knew cooking was something I was going to do for a job. The apprenticeship at the Lion Hotel has taught me so much more than a college course. I've got to cook in real time and understand the pressures of working quickly and producing dishes to a high standard. Nick has been a great mentor to me and I've learnt so much since I started working with him."
Since embarking on the scheme, Rhiannon has teamed up with chef proprietor Nick Davies to win the Battle of the Dragon competition to showcase the best of Welsh cuisine earlier this year. During the competition, the team served up a variety of local seafood, Welsh lamb and complex desserts, something which the Craft Cuisine apprenticeship has fullyequipped her for.
Rhiannon said, "The course prepares us for every aspect of professional cookery. We've learnt to prepare all meats, poultry, starters, desserts and sauces, and I've also had the chance to help Nick with creating menus for the hotel."
Rhiannon will finish her apprenticeship in October and has big ambitions for her future. She continued: "I'd love to move to somewhere like London to gain more experience and work in a famous hotel. I've learnt so much by working at The Lion and I'd advise anyone who is considering this path to go for it and get as much hands-on experience as possible. Only the apprenticeship was able to do this for me and I feel I've gained so much from starting my training in the kitchen."
The Lion Hotel reopened to the public in 2011 after significant reinvestment. Chef proprietor Nick Davies took on his first intake of four apprentices in December 2011.
He said, "When we re-opened for business we had enquiries from young people who were looking for work. We decided to start our own apprenticeship scheme to grow our own staff base and train them to the high standards we require.
"Through our providerCambrian Training, we can offer every member of our team the opportunity of an apprenticeship to suit their job requirements, meaning they are learning exactly what the industry needs and keeps them motivated and focused. The Lion wouldn't be where it is today without our highly-trained staff.
"I'm really proud of the apprenticeship scheme we can offer to young people and Rhiannon has gained such a solid foundation to take into whichever aspect of catering she wants to. The world is definitely her oyster."
Deputy Minister for Skills and Technology, Ken Skates said: "Apprenticeships are a great way for young people to kick-start a successful career, giving them the opportunity to gain recognised qualifications as well as essential, practical and relevant skills, all while earning a wage.
"But many students are still unaware of the number and variety of options available to them at 16 or 18. As thousands of young people across Wales nervously await their GCSE and A level results this week, we hope that sharing stories like Rhiannon's will be helpful to those preparing to make important decisions about their future, and reiterate the variety of options available in Wales.
"The Welsh Government regards apprenticeships as an excellent way to build a skilled and competitive workforce, address skills shortages and ultimately strengthen the Welsh economy."
The Apprenticeship Programme is funded by the Welsh Government with the support of the European Social Fund.