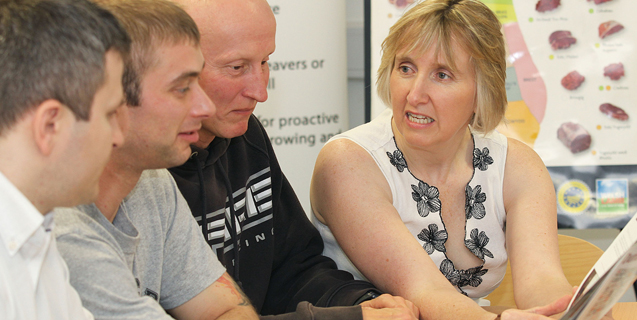 One of the UK's largest retail packers, which employs 600 people in West Wales, has been shortlisted for a prestigious national apprenticeship award.
Dunbia, which has a base at Llanybydder in Carmarthenshire, is a finalist in the Large Employer of the Year category at the Apprenticeship Awards Cymru 2014 and will be attending a high profile awards ceremony at the Celtic Manor Resort, Newport on Friday, October 31.
The awards, divided into 13 categories, are organised jointly by the Welsh Government and the National Training Federation for Wales (NTfW).
Showcasing excellence in skills development in Wales by learners, employers and learning providers, the awards are sponsored by Pearson PLC with support from media partner, Media Wales.
The awards recognise employers who commit to developing their workforce through apprenticeships and other work-based learning programmes, which support employees during their training. They are also a great way to evaluate training and development, as well as a fantastic motivational factor for any workforce or learner.
The Apprenticeship Programme in Wales is funded by the Welsh Government with support from the European Social Fund.
Dunbia prides itself on employing staff who are not only well trained but have the ability to support the growth of the business at its facilities in Wales.
The company employs around 4,000 people throughout the UK, of which 600 are employed at its Llanybydder, including 32 apprentices. Dunbia believes its growth and profitability are supported by the quality and training of its apprentices.
"We understand that in order to be a successful business with growth potential and providing the best quality products to our clients we have to have a well trained workforce and apprentices are central to this," said Kay Lewis, Dunbia's learning and development manager.
"Our Apprenticeship Programme was introduced to support our objective of becoming a centre of excellence and, since 2005, we have invested heavily in it."
Learning provider Cambrian Training Company delivers the company's Apprenticeship Programme and, during recent years, 53 apprentices have passed through it.
"We find that apprentices who have been through the programme are much more motivated and skilled. For example, our hygiene manager started his career as a general operative and progressed as a hygiene operative, supervisor and is now a manager covering our two Welsh sites," added Kay.
Deputy Minister for Skills and Technology, Julie James said: "Apprenticeships are one of the most practical and cost effective ways for a business to build a skilled workforce. An apprentice can learn the skills an employer needs to keep pace with developments in their industry and deliver the service customers demand. I am delighted that companies like Dunbia share the Welsh Government's commitment to vocational training."
More than 300 key stakeholders from the vocational education and training sector across Wales are expected to attend the high profile awards ceremony, where guests will dine out with chefs from the Welsh National Culinary Team.