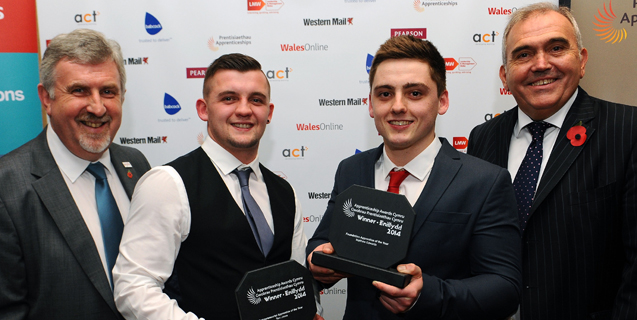 Two champion young butchers from North East Wales have proved a cut above the rest by winning prestigious national apprenticeship awards.
Tom Jones, 24, who runs Jones' Butchers in Llangollen, was named Entrepreneurial Apprentice of the Year, while Matthew Edwards, 22, who works for S. A. Vaughan Family Butchers, Penyfford, near Chester, became Foundation Apprentice of the Year at the Apprenticeship Awards Cymru 2014.
They joined 34 other finalists in 13 categories at the high profile awards ceremony at the Celtic Manor Resort, Newport on Friday (October 31).
"This is the best moment in my career so far," was elated Tom's immediate reaction to winning. "It was a very tough category and I'm thrilled to bits to be the winner.
"This award means a lot to me and hopefully the publicity will boost the shop and attract more trade."
Matthew confessed to being "overwhelmed" by the award and the occasion. "To win an award this big is just fantastic and it will be great to add to my CV. I didn't expect so many people to be here and for there to be such a high skill level in the category.
"My legs were literally shaking when my name was announced as the winner and I had to concentrate on not tripping up as I went on stage."
Organised jointly by the Welsh Government and the National Training Federation for Wales (NTfW), the awards showcase excellence in skills development in Wales by learners, employers and learning providers. Sponsor was Pearson PLC and media partner was Media Wales.
The awards recognise employers who commit to developing their workforce through apprenticeships and other work-based learning programmes, which support employees during their training. They are also a great way to evaluate training and development, as well as a fantastic motivational factor for any workforce or learner.
The Apprenticeship Programme in Wales is funded by the Welsh Government with support from the European Social Fund.
Tom has added entrepreneurial flair to his list of accolades as he seeks to expand his thriving business in Llangollen. Having been given the task of running Jones' Butchers in the town three years ago, he set about gaining business knowledge and qualifications to give the shop a solid foundation.
He achieved a Foundation Apprenticeship in Meat and Poultry Industry Skills, is working towards an Apprenticeship and aims to progress to a Higher Apprenticeship as he now employs four apprentices.
The business has blossomed. Daily takings have doubled and profits on product lines have increased by more than 30 per cent, resulting in the need for larger premises. Tom aims to double the business profit by expanding into outside catering, boosting online sales and attracting new customers.
Away from work, he has achieved major success. He was named VQ Learner of the Year in 2013, is an ambassador for the 'Future Skills…food for thought' campaign, won the Welsh Young Butcher contest once and was runner up twice and represented Wales in the Premier Young Butcher competition.
"It's thanks to my apprenticeship training that I've been able to grow the business, resulting in my expansion plans," he said.
Matthew's quest to be the best has seen him become the champion Welsh Young Butcher and he represented Great Britain in a European skills competition in Switzerland in September. He secured his place in the GB team as runner up in The National Federation of Meat and Food Traders' 2013 Premier Young Butcher contest.
He is now working towards an Apprenticeship in Meat and Poultry Industry Skills, having previously achieved a Foundation Apprenticeship. Since joining Steve Vaughan he has won the Young Sausage Maker competition at last year's Bpex Regional Roadshow and competed in the champion of champions contest last month.
"I chose an apprenticeship to further my understanding of butchery and to learn everything I can to help me achieve my goal: to own a butcher's shop and pass on my knowledge to other young, enthusiastic butchers," he said.
Both butchers are trained by award-winning provider Cambrian Training Company based in Welshpool.
Deputy Minister for Skills and Technology, Julie James said: "Apprenticeships are a great way to start a successful career. You earn whilst you learn and gain nationally recognised qualifications. They also provide industry with a skilled, motivated and qualified workforce. I wish Tom and Matthew every success in their careers."
More than 400 key stakeholders from the vocational education and training sector across Wales attended the high profile awards ceremony, where guests dined out with chefs from the Culinary Team Wales.
For further information contact Duncan Foulkes on Tel: 01686 650818 or 07779 785451 or email: duncan.foulkes@btinternet.com or Karen Smith, NTfW communications and marketing manager, on Tel: 02920 495861