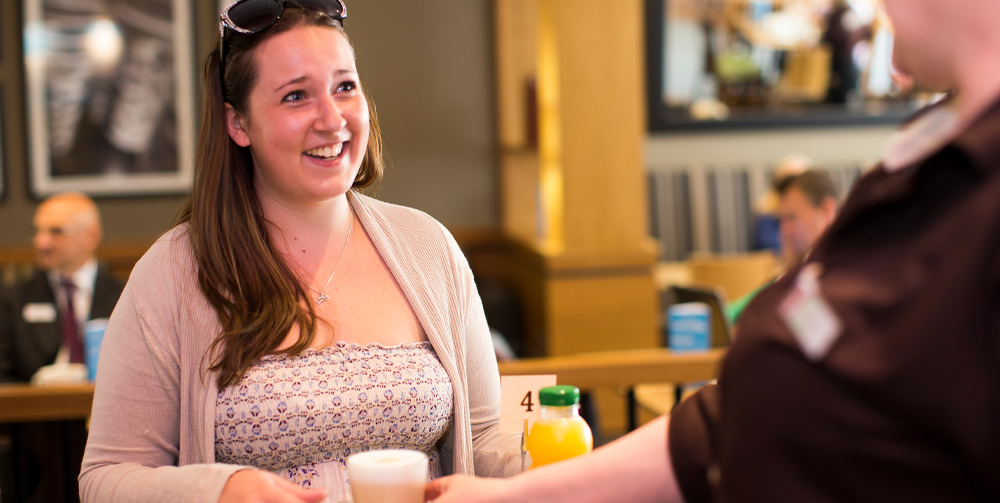 Here at Cambrian Training we are passionate about hospitality. We are passionate about the staff that work within it and we are passionate about what it stands for: coming together.
A career in hospitality is more than a job, it is a community of friendly, lively individuals who enjoy making others happy.
The benefits of being in hospitality are endless: it's fun and active, where no two days are ever the same, it's social so you can build relationships with team members and customers, as well as flexible shift options to work around your busy life. And all of this whilst gaining skills that can be applied to a diversity of roles, anywhere in the world! It's certainly no office 9-5.
These are just a few of the many benefits of a career within this amazing industry. This is why we have been proudly supporting hospitality for so many years, with Cambrian Training being one of the largest hospitality apprenticeship providers in the whole of Wales; with over 600 current apprentices (Aug 22).
Being a hospitality apprentice with us means an opportunity in a career of your choice, gaining invaluable experience, knowledge and skills, as well as an accredited qualification. All this, with the same staff benefits as everyone else, while earning a wage that is probably more than you think!
"Through my apprenticeship, I have gained a promotion after learning the skills I need to progress in the business. I am now training the junior members of the team to fill my old position and then looking to take over my role, so that I can continue to progress through the ranks and make my career change a perfect outcome. The one to one training has strengthened and helped my confidence both inside and outside of the kitchen. I would have never thought, before starting the apprenticeship, that I would be cooking for hundreds of people without a second thought."
Alastair Roberts-Jones, Apprentice Chef, Compass Group.
You also don't have to look far to find an array of hospitality related employers who agree that our specialist apprenticeship programmes have enhanced their business – upskilling staff to create a motivated and knowledgeable workforce. Our work-based apprenticeships mean you can increase staff engagement and reduce recruitment costs and in turn achieve your business goals.
"Apprenticeships allow us to develop individuals along the pathway that a five-star resort requires. They (Cambrian Training) are exceptionally supportive to the point where it's difficult for our staff to see the dividing line between the two companies."
Tracey Israel, Head of Learning & Development, Celtic Manor Resort.
Our commitment to this industry is also shown through our support of charities such as Hospitality Action, who work tirelessly to give help, guidance and advice to all who work in hospitality. Additionally, by our links with the Culinary Association, of which we offer all our hospitality apprentices a free membership. We have also long been involved in a variety of relevant competitions like World Skills, in order to showcase the best in the biz!
We know being in hospitality is more than just a job. Apply to one of our apprentice roles today and see if you agree. ⇒ https://www.cambriantraining.com/wp/en/jobs/