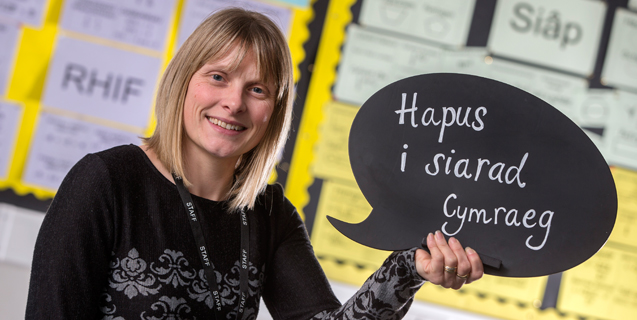 With Apprenticeship Week just around the corner, a teacher and mother of three from Carmarthenshire is encouraging others to consider undertaking a higher apprenticeship to help springboard their career development.
Apprenticeship Week (9-13 March) celebrates the positive impact apprenticeships have on individuals and businesses and celebrates the skills and talent of apprentices to employers and the public.
First language Welsh speaker, Eirlys Thomas has been teaching Welsh at Ysgol Gyfun Gymraeg Bro Myrddin for five years, but after being promoted to Head of Year, she was offered the chance to undertake a higher apprenticeship in Middle Management to help her upskill for the role.
Eirlys said, "Despite being a teacher for 16 years, when I was promoted to Head of Year, I suddenly found myself faced with a series of new challenges that tested my existing capabilities and experience.
"I didn't even know that apprenticeships were available for school teachers, so when our training manager, Euryn Madoc-Jones suggested that I undertook a Level 5 apprenticeship in Middle Management with Cambrian Training, I jumped at the opportunity to upskill."
Eirlys is among the first cohort of apprentices to join the ILM Leadership and Management Course, a flagship course being delivered for the first time in an educational setting in the medium of Welsh language.
Eirlys continued "The course is teaching me a huge variety of new skills in data analysis, leadership and management that are not only helping to grow my confidence, but also providing me with the experience and qualifications I need to progress my own career."
Although juggling studying for her apprenticeship with her full-time day job and taking care of her three children is sometimes a challenge, Eirlys is confident the apprenticeship will provide her with the qualifications and skills she needs to progress her career further.
Eirlys said, "I'm really enjoying undertaking the apprenticeship and although it's difficult fitting everything in at times, I'm already finding that I'm applying a lot of the skills and practises I'm learning on a daily basis. It has been even better that I have been able to undertake the apprenticeship in Welsh."
Latest figures from the Welsh Government reveal that Higher Apprenticeships have witnessed a dramatic surge in popularity, with the latest figures showing that 3,320 Higher Apprenticeship starts were created in 2013/14 compared with 2,275 in 2012/2013 and just 280 in 2011/12.
Julie James AM, Deputy Minister for Skills and Technology, said: "In Wales, the number of people taking up an apprenticeship is on the rise and I'm encouraged to see so many young people realise the benefits of studying for this nationally recognised qualification. I'm also really pleased to see employers and training providers offering a range of apprenticeships through the medium of Welsh and bilingually.
"Apprenticeships are a practical way to earn a wage and gain valuable skills that are transferable across the world of work. Available across a range of sectors, apprenticeships are designed with the help of employers so they offer a structured programme that takes you through the skills you really need to do that job.
"Apprenticeship Week highlights the positive impact that apprenticeships have on individuals, businesses and the wider economy. There is support from the Welsh Government available for businesses considering taking on an apprentice, including help with training and assessment costs."
In the run up to Apprenticeship Week, the Welsh Government is running a campaign to urge more businesses to consider apprenticeships for staff and is encouraging organisations of all sizes and across a range of sectors to support the recruitment of apprentices.
The Apprenticeship Programme is funded by the Welsh Government with support from the European Social Fund.