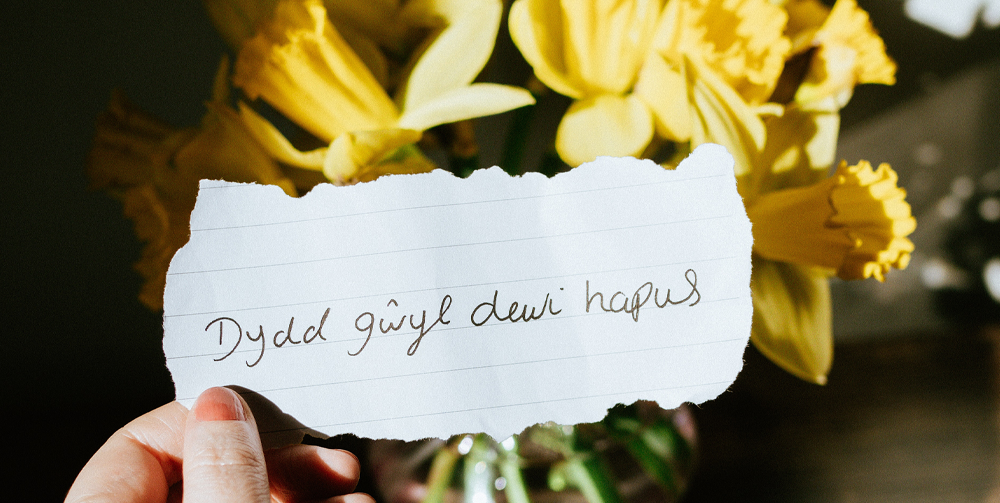 Every year on the 1st of March, with flags flying high, a wealth of exciting parades and concerts are held across the country to celebrate the native-born Patron Saint of Wales.
Daffodils, leeks and vibrant traditional dress brighten up the streets of Wales; welcoming the arrival of spring.
So who is St David and why do we celebrate him?
The history of St David – 5 fun facts . . .
He was born during a storm – in the year 500, his Mother St Non, gave birth on a clifftop in a fierce storm.
He became a famous preacher – St David was a renowned preacher, founding a number of settlements and churches and even completing a pilgrimage to Jerusalem.
He was a teetotal vegetarian – he and his monks lived a simple life, refraining from eating meat or drinking beer. David was said to only eat leeks and water, perhaps this is why the leek became a national symbol.
He performed miracles – the most famous miracles being whilst preaching to a large crowd and the ground on which he stood on rose to form a hill. A white dove, sent from God, then flew to land on his shoulder.
His legacy still lives on – in his last sermon St David said to his followers: "Be joyful, keep the faith, and do the little things that you have heard and seen me do." The phrase: 'Gwnewch y pethau bychain mewn bywyd' or 'Do the little things in life', is still a well-known maxim in Wales.
St David died on the 1st of March in 589. He was canonised by Pope Callixtus in the 12th century, and we have celebrated St David's Day ever since.
So here's a few ways you can join in with this year's celebrations.
Enjoy your favourite Welsh dish
Fuel your day St David's Day with one of the many traditional Welsh delicacies such as Bara Brith, Glamorgan Sausages or Cawl. Even better you could book our unique St David's taster menu at our historic restaurant with rooms
Attend an event or parade
Organised activities, events and parades are happening all over for everyone to enjoy; from Welsh live music and castle open days to traditional storytelling and coastal path runs.
Wear a leek or daffodil 
Many people will dress up in yellow or just wear a small leek or daffodil on their lapel, whatever small way you can celebrate is just fine.
Do the little things!
Finally, join in by following the infamous words of St David himself and do the little things. A random act of kindness or 'Welshness' could make all the difference this St David's Day!
(visitwales.com, Welsh Government, 2023)