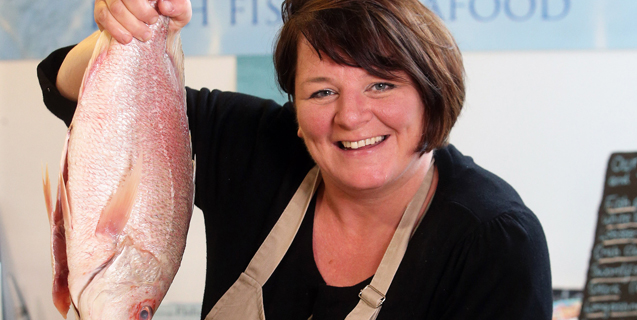 A woman who gave up a job selling advertisements for the Glasgow Herald newspaper to start her own business in Wales has been described as "a shining example of Welsh fish mongering at its best".
Sarah O'Connor, who runs The Fabulous Fish Company at Chepstow Garden Centre in Chepstow, has become the first fishmonger in Wales to complete a foundation apprenticeship in Fish and Shellfish Industry Skills.
The apprenticeship, part of the national Food and Drink Manufacturing framework, was delivered by award winning work-based learning provider Cambrian Training Company of Welshpool.
Desperate for a career change, Sarah woke up one morning in her home city of Glasgow and decided she wanted to become a fishmonger. She immediately set about trying to find out how to make her dream become a reality.
With help from Seafish, the authority on seafood, she tracked down an intensive two week course in Doncaster, which laid the foundations for her new career. She then moved to Wales five years ago and worked in a livery yard whilst establishing a business selling fish from a refrigerated van on Chepstow and Monmouth Markets.
When a small shop became available at Chepstow Garden Centre just over two years ago, she jumped at the chance to set down roots and her business is thriving. So much so, that she employs a shop assistant, Gemma Robinson and is diversifying into making quality fish pate.
Winner of a bronze Wales True Taste Award for People's Choice Favourite Fishmonger, she's
passionate about her business, selling only the best quality, fresh fish to her customers and passing on her skills and knowledge to Gemma. She insists that fish is bought and sold the same day.
"My friends thought I was mad and I'd soon be back with my tail between my legs, but I absolutely love being a fishmonger and my business is thriving," said Sarah, who has an 18-year-old daughter. "I have never known an industry where everybody works together. I've made great friends with other fishmongers and porters and sellers at the fish market."
Seeking to convert her skills into a qualification, she contacted Lee Cooper, head of onshore training at Seafish, who put her in touch with the Seafish recognised apprenticeship provider, Cambrian Training Company and lost no time in embarking on her foundation apprenticeship in Fish and Shellfish Industry Skills. She completed the qualification this summer and Gemma is close behind with her own foundation apprenticeship.
"The apprenticeship has been great because it has made me look at myself and so many different aspects of the business with new eyes," explained Sarah. "We have a HACCP (Hazard Analysis and Critical Control Point) system in place and I am always learning new things.
"We have now started making different types of fish pate, using good quality ingredients and my customers love it. I did a soft launch at a food festival and sold far more pots that I had imagined. Through doing the apprenticeship, I have introduced systems in the shop which allow me to plan ahead.
"I can't express how much I enjoyed doing the apprenticeship and how much it has opened my mind. I would highly recommend it to all fishmongers."
Since starting her business, she has discovered a sense of déjà vu, in that her Irish forefathers were fisherman at the time of Oliver Cromwell, who stopped them fishing.
Reflecting on her career change, she said: "It just shows what can be achieved when you are committed to doing something. I'm a city girl who moved to the countryside and I'm absolutely loving it. I've never been happier."
Chris Jones, Cambrian Training Company's head of the business unit, said: "It has been a pleasure to work with Sarah, whose knowledge of fish is second to none. She has really helped to promote the fish and shellfish industry and we are proud that she has completed her qualification with us."
Lee Cooper describes Sarah as a "trend setter" and "great ambassador" for the industry and Welsh fish, having been impressed by her passion for her new career.
"Sarah's a shining example of Welsh fish mongering at its best and I'm delighted that she's the first fishmonger in Wales to complete the foundation apprenticeship in Fish and Shellfish Industry Skills," he said.
To find out more about Sarah and the Fabulous Fish Company visit www.fabulousfish.co.uk
Cambrian Training Company delivers apprenticeships which are funded by the Welsh Government with the support of the European Social Fund.
Picture captions:
Sarah O'Connor with her fish display at The Fabulous Fish Company.
For more information please contact Katy Godsell, Cambrian Training Company's Marketing Manager, on Tel: 01938 555893 email: katy@cambriantraining.com or Duncan Foulkes, public relations consultant, on 01686 650818