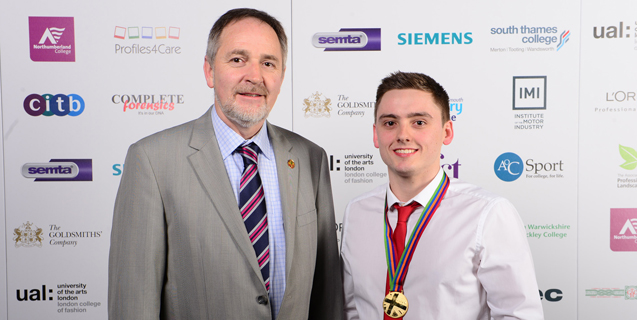 Talented North Wales butcher Matthew Edwards celebrated his greatest achievement to date by winning the Butchery WorldSkills UK National Competition on Saturday.
Matthew, 23, who works for Vaughan's Family Butchers, Penyffordd, near Chester, was awarded the gold medal after two days of tough competition at The Skills Show, held at the NEC Birmingham.
He was one of the six top scoring butchers from the combined heats in Wales, Northern Ireland and England who qualified for the closely contested final. They were all challenged to complete five tests: ready to eat products, sausage making, barbecue products, kitchen ready products and a boning and theme butchery display.
Following the competition, the butchers gave a demonstration on Saturday at the show, the nation's largest skills and careers event which helps to shape the future of the next generation.
Matthew, a former Wales Young Butcher competition champion, emerged victorious by six points from silver medallist John Brereton, 41, butchery manager at the award-winning Ludlow Food Centre in Ludlow. A further three points back in joint bronze medal position were defending Wales Young Butcher champion Peter Rushforth, 20, of Swans Farm Shop, Mold and Dylan Gillespie, 20, form Clougher Valley Meats, Clougher, Tyrone, winner of the Northern Ireland heat.
The other two finalists were Daniel John Allen-Raftery, 31, a butcher and slaughterman from Randall Parker, Llanidloes and Matthew Parkes, 21, who lives in in Willenhall and is assistant manager for Walter Smith Fine Foods shop at Melbicks Garden Centre, Coleshill. Just 12 points separated all the butchers.
It was the first time that butchery had been included as a WorldSkills UK competition. Organised by award-winning, Welshpool-based training provider Cambrian Training Company on behalf of WorldSkills UK, the competition began with regional heats sponsored by The National Federation of Meat and Food Traders, Institute of Meat and PBEX.
"To be honest I was very shocked to win because the skills level was outstanding," confessed Matthew. "I competed for Great Britain in a competition in Switzerland last year and I found this competition equally as hard.
"Since I won the Wales heat earlier this year, I have practiced non-stop and it just shows that hard work does pay off. It's the biggest competition I have ever won and it hasn't really sunk in yet that I'm the UK champion.
"I don't think people appreciate how much skill and artistic flair goes into butchery and preparing meat displays."
He thanked his employers, Steve and Helen Vaughan for their support and encouragement. Looking to the future, he said he would like to qualify for the UK team to take on Australia and New Zealand in a Tri Nations butchery competition next year.
Arwyn Watkins, Cambrian Training Company's managing director, said: "The competition was a fantastic showcase for butchery skills and we were delighted with the excellent standard achieved by the finalists.
"It was clear that the finalists had done a lot of training in their businesses since the regional heats and we received a phenomenal number of compliments from our competition partners.
"The reason Cambrian Training Company gets involved in skills competitions is to develop a benchmark not only for competitors but also for trainers. This year we have set the bar and hopefully we will see it raised in the future."
He said the company's ultimate aim was to get butchery, one of world's oldest skills, featured as a WorldSkills competition
WorldSkills UK National Skills Competitions are designed to enhance apprenticeship and training programmes and improve and drive skills in the industry. Butchery was one of more than 60 skills to feature in this year's competitions.
Cambrian Training Company brought together the main players in the meat industry to form a steering group to organise the butchery competition.
Partners included Pearsons, Scottish Federation of Meat Traders, The National Federation of Meat & Food Traders, Institute of Meat, Eblex, Dunbia Ltd, Castell Howell Foods, Leeds City College, Improve – The National Skills Academy for Food & Drink, Hybu Cig Cymru – Meat Promotion Wales, Randall Parker Foods and meat industry consultant Viv Harvey.
For more information please contact Katy Godsell, Cambrian Training Company's Marketing Manager, on Tel: 01938 555893 email: katy@cambriantraining.com or Duncan Foulkes, public relations consultant, on 01686 650818
Picture captions:
Matthew Edwards with Cambrian Training Company's managing director Arwyn Watkins afer receiving his gold medal.