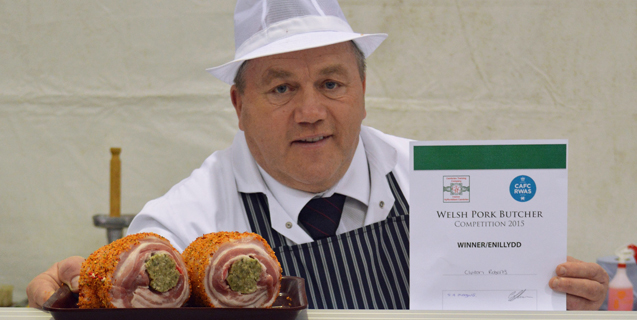 The first winner of the new Welsh Pork Butcher contest has dedicated his victory to his late mother who died three weeks ago.
Experienced Clinton Roberts, who owns Ponty Butchers, Pontardawe, held off a strong challenge by the defending and former Welsh Young Butcher champions Peter Rushforth, 20, from Swans Farm Shop, Treuddyn, Mold and Tomos Hopkin, 22, from Gwyrhyd Mountain Meat, Rhiwfawr, Swansea.
Just one and half points separated the top three butchers after a closely contested final at the Royal Welsh Winter Fair in Builth Wells on Monday. Fourth in the competition, which was open to butchers of all ages, was Dave Lang from New Inn Butchers Shop, Newbridge-on-Wye.
Roberts, who won a series of competitions in the 1990s, said: "I dedicate this victory to my mam who died three weeks ago. She was my inspiration and was so proud of what we have achieved. I am sure she has been watching over me and smiling today."
Welshpool-based Cambrian Training Company, which delivers apprenticeship for butchers with funding from the Welsh Government and European Social Fund, collaborated with the Royal Welsh Agricultural Society to jointly run the contest
Sponsored by the British Pig Association, the final gave the four butchers two hours to present an innovative and creative display from half a Welsh pig, using either modern or traditional methods to best promote Welsh Pork to consumers. Roberts received £130 and the joint runners up shared £70.
The finalists were challenged to choose cuts to maximise saleability and product value, with the judges looking for new, creative ideas, cutting technique, added value, display techniques, HACCP and personal hygiene and maximum yield from the carcasses.
"I hadn't done a display competition since 1997 but this was too good an opportunity to turn down," said Roberts. "I stuck to the criteria with a mixture of traditional and modern cuts.
"It was good to compete against the top young butchers to show that the old dog still has it. I think it's fantastic that Cambrian Training Company is nurturing young butchers because there is such a lack of interest in the trade."
Chris Jones, who judged the contest with Steve Morgans from Morgans Butchers, Brecon, said: "It was a really good competition and nice to see young and experienced butchers competing against each other. There was very little to choose between the top three."
Picture caption:
Welsh Pork Butcher champion Clinton Roberts with his winning display.
For more information please contact Katy Godsell, marketing manager at Cambrian Training Company, on Tel: 01938 555 893, Keith Brown at the Royal Welsh Agricultural Society, on Tel: 01982 552100 or Duncan Foulkes, public relations adviser, on Tel: 01686 650818.