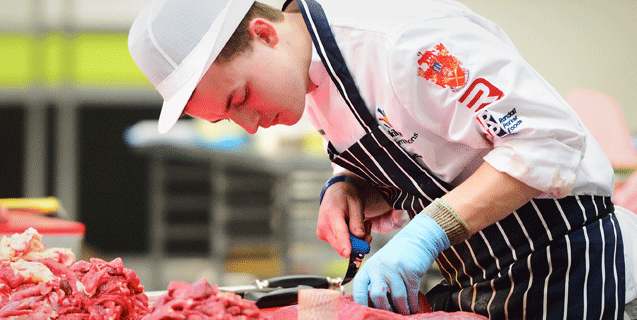 The search to find the UK's most talented butcher is back. Now in its second year, the Butchery WorldSkills UK competition hopes to find the best of British butchers in the industry.
The butchery competition focuses on all the essential skills required for a successful career as a multi-skilled butcher within the food manufacturing industry, and tests overall skill, innovation, creativity, presentation, work ethic, method and approach to carcase and primal utilisation, waste and safe and hygienic working practice.
Entrants do not have to hold any qualifications to enter, however they must not have completed higher than a level 4 in Food Manufacturing Excellence qualification or the equivalent to enter. Good knife skills with a minimum of six months practical experience are required by all applicants.
To enter, log on to the www.worldskillsuk.org website, closing date for applicants is 7 April. Regional heats will be held between May and July with the six top scoring butchers from across the UK qualifying for the final taking place at The Skills Show at the NEC Birmingham 17-19 November.
WorldSkills UK National Skills Competitions are designed to enhance apprenticeship and training programmes and improve and drive skills in the industry. Butchery was one of more than 60 skills to feature in this year's competitions.
Award-winning, apprenticeship training provider Cambrian Training Company has organised the butchery competition on behalf of WorldSkills UK supported by an industry steering group and exclusive media partner is Meat Trades Journal.
Sponsorship partners include The National Federation of Meat & Food Traders, Institute of Meat, The Food & Drink Training and Education Council Ltd (ftc) and industry consultant Viv Harvey.
For more information please contact Katy Godsell, Cambrian Training Company's Marketing Manager, on Tel: 01938 555893 or email: katy@cambriantraining.com. Source Meat Trades Journal.