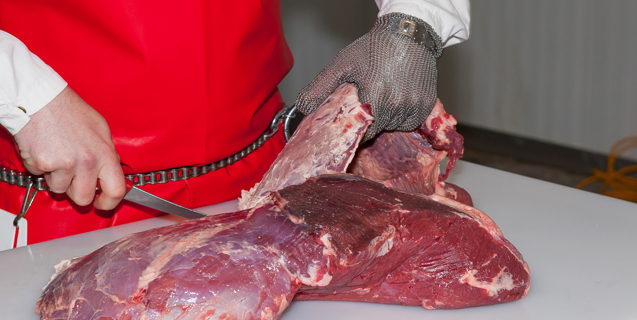 Following on from a successful first year, the WorldSkills butchery competition is returning for 2016.
Award-winning apprenticeship training provider Cambrian Training Company has organised the butchery competition on behalf of WorldSkills UK, supported by an Industry Steering Group. Meat Trades Journal is proud to be the exclusive media partner.
The competition is made from three regional heats, with the six top-scoring butchers from across the UK qualifying for the final, to be held at The Skills Show at the NEC Birmingham from 17-19 November.
The first regional heat will see four of the top butchers compete in the Wales heat to battle it out at the Centre for Excellence in Welshpool on Tuesday 24 May 2016.
The Welsh line-up is made up of: Peter Rushforth aged 19 from Swans Farm Shop in Mold; 28-year-old Liam Lewis of Hawarden Estate Farm Shop near Chester; Peter Smith, 31, from Morrisons Welshpool and Hannah Blakely, a 16-year-old student at Leeds City College.
Andrew Lindsay, Lewis' supervisor at Hawarden Estate Farm Shop said his colleague had been working hard to prepare for the competition.
Having a member of staff showcase his skills on a platform such as this will help raise interest in the business, said Lindsay. "It gives us an opportunity to advertise that there's a candidate in such a competition to be working for us and that's such a viable asset.
"It all works in our favour really, as well as his own, to be able to say: 'This is what I've done and achieved'."
The four talented butchers were chosen to take part in the competition after making it through a passive test. All competitors are offered the chance to compete at any of the three heats, depending on their availability.
This year's judges are Roger Kelsey, chief executive of The National Federation of Meat & Food Traders (NFMFT) and industry consultant Viv Harvey. Both judges have extensive knowledge and experience within the industry.
The competition will be split into two categories. Task one will see the competitors have 45 minutes to seam an entire topside of beef into individual muscles, following all natural seams.
The second of the two tasks has a barbecue theme and will require the butchers to create a visually exciting barbecue display using technical skills and ability.
Arwyn Watkins, chair and managing director of Cambrian Training Company commented: "It is excellent to see the utilisation of the investment made at our FSA licensed PGI Welsh Lamb & Beef cutting plant in the advancement of skills in this very important sector."
Sponsorship partners include NFMFT, the Institute of Meat, The Food & Drink Training and Education Council (ftc), Hybu Cig Cymru – Meat Promotion Wales and Viv Harvey.
– See more at: http://meatinfo.co.uk/news/fullstory.php/aid/19749/WorldSkills_butchery_competition_returns_for_second_year.html#sthash.S6vJwIUq.dpuf