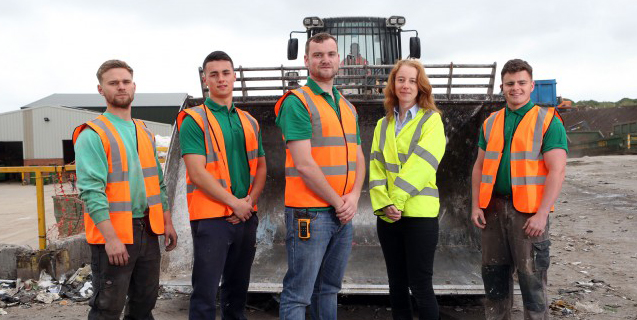 Vocational qualifications are supporting an award winning North Wales recycling company's ambition to send zero waste to landfill in the future.
Thorncliffe, a double winner at last year's Apprenticeship Awards Cymru, has successful waste and recycling sites in Mold and Abergele which are each saving 30,000 tonnes of waste a year from landfill.
Now the company is in the running for more success after being shortlisted in this year's Vocational Qualification (VQ) Awards, which celebrate the achievements of both learners and employers across Wales.
Thorncliffe is one of three businesses competing to become VQ Employer of the Year, an award which celebrates employers that invest in vocational learning to drive up workforce skills and increase productivity and competitiveness. The winners will be revealed at an awards ceremony to be held at St David's Hotel and Spa, Cardiff on June 7, the day before VQ Day.
The awards are organised by the Welsh Government, the National Training Federation for Wales (NTfW) and ColegauCymru / CollegesWales.
To achieve its business goals, Thorncliffe launched an Apprenticeship programme, working closely with Cambrian Training Company, four years ago and it now has 12 apprentices. The business identified the need to upskill its workforce of 98 after investing in cutting edge equipment, including a new refuse derived fuel processing plant, which bales waste.
A total of 34 qualifications, ranging from Foundation Apprenticeships in Sustainable Resource Management to a level four Higher Apprenticeship in Systems and Operations, have been achieved with another 12 in progress.
Working with the Probation Service, Thorncliffe provides employment and training opportunities to ex-offenders as part of the "8 ways to change your life" programme, which won an Inspire! Award for best project for its positive community impact. Ex-offenders are initially offered work experience which progresses to a job with training if they prove themselves. To date, three ex-offenders have undertaken Apprenticeships with the company.
"We have found that offering vocational qualifications to staff has helped foster a desire to keep learning, makes them feel valued and improves productivity," said Daniel Harper, manager of the Mold recycling site. "We recognised that we needed a highly trained and motivated workforce and that attitudes needed to change from waste being an unpleasant job to a new science where it is a resource for our futures.
"We think staff gaining an understanding of recycling targets and emerging technology is vital to our ongoing success."
Julie James, Minister for Skills and Science, said: "High quality vocational qualifications are essential to provide individuals and businesses with the skills, experience, motivation and inspiration they need to get ahead.
"Many of our VQ Awards finalists this year are demonstrating that they are marked out as future leaders or ambitious entrepreneurs and have an eye on making sound business decisions and increasing productivity.
"Through their ambition to better their own careers and businesses, these finalists are helping build a stronger society and healthier economy for Wales."
Now in their ninth year, the awards coincide with VQ Day on June 8, a celebration of the benefits and value of high quality technical, practical and vocational learning to individuals and to the economy. There are also awards for VQ Higher Learner of the Year and VQ Intermediate Learner of the Year.
Learning providers across Wales are being encouraged to organise regional events to celebrate VQ Day and engage with learners of all ages. Vocational qualifications have never been more important to the economy and the individual, as they deliver the trained, talented employees that businesses are crying out for and ensure young people have the skills needed to succeed in education and work. For more information about the awards please visit www.vqday.wales
Picture caption:
Daniel Harper (front), manager at VQ Employer of the Year finalist Thorncliffe's Mold site, with Heather Martin from Cambrian Training Company and apprentices Michael Jones, Robert Moore and Lewis Speakman