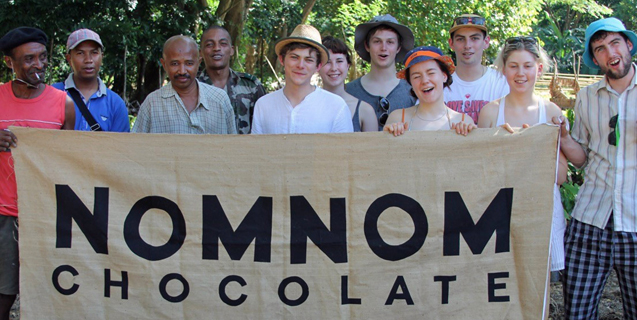 James Rees and Lili Woollacott had no idea that signing up for the Jobs Growth Wales programme would open up an opportunity to travel to Madagascar to discover how cacao is produced for them to make quality Welsh handmade chocolate.
But that's exactly what happened last month when seven employees of rapidly growing NOMNOM Chocolate in Llanboidy, Carmarthenshire jetted half was around the world to improve their understanding of the chocolate supply chain.
The trip was the idea of company founder Liam Burgess, a modern day Willy Wonka with his own chocolate factory. He and his team spent eight days in Madagascar where they visited a cacao plantation, manufacturing plant and an orphanage, which has strong Welsh links.
James and Lili, both aged 20, joined NOMNOM Chocolate on the Jobs Growth Wales programme, which gives young people, aged between 16 and 25 years, six months of vital work experience with an employer on at least the minimum wage. At the end of the six months, the employer has an opportunity to employ the young person.
James and Lili were both retained by the company after six months and they have now begun apprenticeships, which are being delivered by Cambrian Training Company. Both the Jobs Growth Wales and Apprenticeship programmes are funded by the Welsh Government with European Social Fund support.
Lili is working towards an apprenticeship in business administration while James and workmates Caleb Young, Brendan Turnbull-O'Connor and Seren Atterbury are seeking an apprenticeship in food industry skills to support the continued growth of the innovative business.
Reflecting on his visit to Madagascar, James, 20, from Narberth, said: "It was an incredible experience. It was great to visit the cacao plantation to see where the chocolate supply chain starts.
"We also visited an orphanage which was another amazing experience. The Jobs Growth Wales programme made this opportunity possible and I now want to grow with this exciting business, which employs young people."
Lili, who has been with NOM NOM for two-and-a-half years, said: "This is my first job and it's incredible to be part of a small business and the exciting things happening at NOM NOM. I think Jobs Growth Wales fits really nicely with our business because it gives young people the chance to see if they can fit in. The programme is good for employers and employees.
"Since February, I have moved from the production line to sales and customer service and really enjoy the work. Knowing the business inside put has helped me to develop my skills and brought me out of my shell. I previously didn't have the confidence to approach new people but everyone we work with is so passionate about our innovative products."
Liam says his business had been helped by the Jobs Growth Wales programme, which allows him to take on extra staff at a time when money is being reinvested into the business.
"We are growing so fast that we are constantly reinvesting available cash into the business," he said. "Jobs Growth Wales allows us to take on staff as cash flow increases and at the end of six months they have secure employment.
"That six months is crucial, especially if you are taking on people who haven't had a job before. We have a culture here where young people are encouraged to use their creativity and grow with the company."
Liam soon plans to expand into much larger premises across the road in the former Pemberton's Chocolate factory later this year. He hopes to buy the factory by crowd funding and wants as many small investors as possible to have a stake in his business, rather than seeking support from large commercial investors.
His mission is to become the world's best chocolate factory and is inspired by Roald Dahl's famous character, Willy Wonka. "I am still waiting to wake up from my dream," confessed Liam. "I have grown the business from nothing in three years and built a chocolate factory, which is quite mad. Watch out Cadbury!
"Roald Dahl said 'Those who don't believe in magic will never find it' and 'If it's not outrageous, you won't get away with it'. The story of NOMNOM Chocolate is quite Wonkaesque. We are turning into the real life version of Willy Wonka and the Chocolate Factory."
Liam, who attributes his interest in chocolate to living next to the Bournville factory in Birmingham for part of his childhood, was helped by a £3,000 loan from the Prince's Trust to set up his business, which began in a caravan in his mum's garden.
He and his staff headed to Madagascar on the company's third birthday, May 13 with a statistic firmly lodged in his memory: 90 per cent of all businesses fail within the first three years.
His business has overcome that hurdle and is looking to the future with great optimism as his chocolates, produced in 14 different Welsh flavours, are now sold by more than 450 independent stockists across the UK. The flavours, which change with the seasons, include Tregroes Waffles, Welsh Cakes, Bara Brith and Halen Mon sea salt, to name but a few.
NOMNOM Chocolate is committed to becoming a certified B Corporation, which provides a framework for companies wishing to benefit society as well as their shareholders.
Liam wants the company's products to be ethically produced and is setting up a donation scheme for the Madagascan orphanage, which he and his team visited. He aims to source all his cacao from Madagascar with a view to empowering people in the supply chain to improve their lives.
Chris Jones from Cambrian Training Company said: "Liam is the perfect employer to work with for the Jobs Growth Wales programme. He believes in giving young people a chance, provides exciting opportunities for them and employs them at the end of the six month.
"He wants his staff to learn new things to grow with and make the business better. He's a modern day Willy Wonka and has developed an awesome business."
Picture caption:
Top: NOM NOM founder Liam Burgess (centre) with employees Lili Woollacott, Callum Coxon, Seren Atterbury, James Rees, Lou Garrett, Brendan Turnbull-O'Connor and Rene Julian and his team from Madagascar.

Examining the cocoa beans are the team from NOM NOM with Thomas, who runs the Marva plantation and Nicolas, a member of the Chocolat Madagascar export team.

Apprentice Seren Atterbury with a cocoa pod.
For more information please contact Liam Burgess at NOMNOM Chocolate on Tel: 01994 448 761, Katy Godsell at Cambrian Training Company on Tel: 01938 555 893 or Duncan Foulkes, public relations adviser, on Tel: 01686 650818.