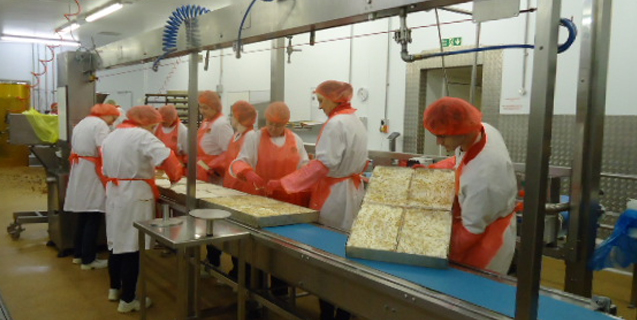 Sixteen new apprenticeships are being created with the launch of a training academy at a successful Welshpool company which makes a huge range of artisan desserts for the food service industry.
Sidoli, which employs 400 people at its Henfaes Lane headquarters, is launching the academy to grow its own multi-skilled workforce, having previously struggled to recruit skilled staff.
The company is working closely with award-winning local training provider Cambrian Training Company, who will deliver the apprenticeship programmes for the Academy. Initially the training provider will deliver Foundation Apprenticeships in Food Industry Skills, supporting apprentices in the workplace.
Sidoli is keen to recruit young people between the ages of 16 and 24 years who are numerate, literate and have good communication skills. They also need to like food, be able work as a team member and use their own initiative.
Applicants for the 16 apprenticeships will be invited to an open day on August 11 when they will be taken on a tour of Sidoli's manufacturing facilities and told exactly what the jobs entail.
The posts are being advertised on Careers Wales' Apprenticeship Matching Service (AMS) – https://ams.careerswales.com/Public/Vacancies/View.aspx?vid=35041 – and by Cambrian Training Company.
From conception to creation, Sidoli's 600 dessert products are all manufactured in Welshpool and supplied to customers across the UK as well as being exported to Europe and the Middle East. Products range from ice cream to complex seven layered cakes and bespoke orders.
A major success story for Mid Wales, the company has been based in Welshpool since 1982 since when its workforce has expanded tenfold and continues to grow.
"Like many manufacturing businesses, find it difficult to attract skilled workers," explained Sidoli's personnel manager Sian Evans. "Historically, we have not attracted many young people, so this is a potential resource for the company to tap into.
"The academy will give young apprentices the skills and flexibility to work in the different departments across the whole business. There are good opportunities for them to grow within our family run business.
"We have a policy of promoting from within wherever possible and have many examples of former trainees developing into senior positions. For example, one of our factory managers joined the business as a production operative when he was 18 and has worked his way up.
"We offer a wide variety of training to staff across all areas of the business and are constantly investing in the manufacturing facilities. We tend to attract workers within a 15-mile radius of Welshpool and the company is proud to have a very low staff turnover. Even through the recession, we managed to maintain the workforce without losing jobs.
"We have timed the open day to coincide with young people leaving school and college and we hope to have the 16 apprentices in place for September."
Cambrian Training Company has been working with Sidoli since 2009 and has delivered training to 36 apprentices to date.
"We have developed a very successful working relationship with Sidoli and are delighted to be assisting the company to establish an academy to offer job opportunities to the local community," said Chris Jones, Cambrian Training Company's head of business.
"The new academy represents a significant investment by this successful company to develop its own multi-skilled workforce to achieve its business objectives.
"The open day on August 11 is a chance for young people and their parents to see for themselves the exciting opportunities that exist within the business."
The apprenticeship programmes, led by the Welsh Government, are supported by the European Social Fund.
For more information about the Sidoli apprenticeships, contact Sian Evans on Tel: 01938 555234 or email sianlevans@sidoli.co.uk
For more information please contact Sian Evans, Sidoli's personnel manager, on Tel: 01938 555234, Katy Godsell, Cambrian Training Company's marketing manager, on Tel: 01938 555 893 or Duncan Foulkes, public relations adviser, on Tel: 01686 650818.