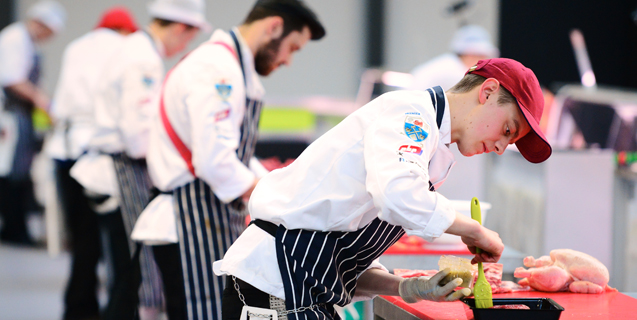 Organising Partner Cambrian Training Company has named the final six butchers who will be battling it out in the WorldSkills competition. 
Hannah Blakey, a 17-year-old apprentice at Leeds City College, is both the youngest competitor and the first female to make it to the finals. 
She'll be joined by Peter Rushforth (pictured) of Swans Farm Shop in Mold, Wales; James Gracey of Quails of Dromore in Co Down; Dylan Gillespie from Clogher Valley Meats in Co Tyrone; Martin Naan from Kettyle Irish Foods in Co Fermanagh; and Daniel Turley of Aubrey Allen in Coventry. 
Rushforth, who was awarded bronze in last year's competition said he had been training hard: "I'm confident, like you have to be in all competitions, but obviously not complacent because the competition gets harder and harder every year."
In preparation for the challenge, he has been practising week in and week out. "I'm trialling products for the counter and seeing what success it has on customers and working on that to impress the judges, hopefully.
"I've done the competition before, but saying that, they've changed the competition this year. They've mixed a few categories up and added a new category.
"It's a great accolade to be named the number one butcher in the UK WorldSkills competition. It's good marketing and good publicity and just leads to the next opportunity." 
All six butchers competed in heats either in England, Wales or Northern Ireland to fight their way into the final. 
The competitors had 45 minutes to seam a topside of beef, followed by an hour-and-a-half to create an innovative barbecue-themed display in one-and-a-half hours.
The six highest scorers across all three heats then advanced to the final, which will take place from 17-18 November at Birmingham's NEC. There, the competitors will perform five tasks over two days that will test their abilities to the limit. 
They will be judged by Roger Kelsey, chief executive of the National Federation of Meat and Food Traders, industry consultant Viv Harvey and chief executive of the Institute of Meat, Keith Fisher. 
The competition is organised by Cambrian Training Company, supported by an industry steering group, with Meat Trades Journal acting as the exclusive media partner.
Sponsors include the NFMFT, Institute of Meat, The Food & Drink Training and Education Council, Hybu Cig Cymru and Viv Harvey, each of which have allowed Cambrian Training to increase awareness of the butchery trade.
"We would like to thank all our sponsors and partners who have supplied invaluable support and resources throughout the competition so far, because without the support we have received from the industry, the competition just wouldn't be possible. It plays a major part in improving skills, increasing awareness and encouraging the next generation to choose butchery as their career path," commented Chris Jones, head of business unit for food manufacturing and butchery at Cambrian Training.
Don't miss the action at the Final which will take place at the Skills Show in 17th – 19th November 2016.