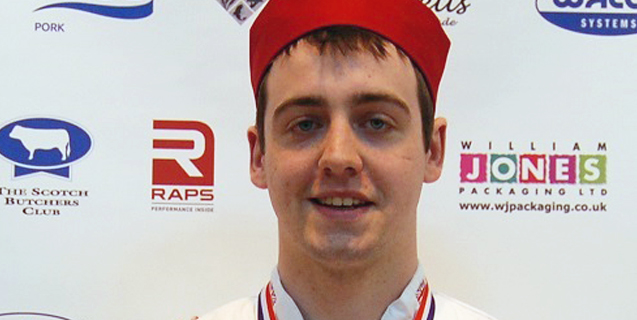 Butchery apprentices from across the UK are being invited to take part in the 2017 Premier Young Butcher Competition hosted by Yandell Media at MeatUp in the Arena, Milton Keynes (NEC) on Thursday 25th May next year.
Following the success of the competition at the Birmingham NEC in April when eight finalists from across the UK fought for fourteen trophies and the title of Premier Young Butcher 2016. The National Federation of Meat and Food Traders (NFMFT) is looking for talented 18-23 year old apprentice butchers to compete in producing and displaying innovative Ready to Eat, Stuffed Roast, Seam Butchery, Barbecue and Kitchen Ready products for the title of Premier Young Butcher 2017.
2016 winner James Henshaw of Taylors Farm Shop in Lathom, Lancashire now prepares with 2016 Runner Up Dylan Gillespie of Clogher Valley Meats, Northern Ireland and James Taylor of Simpsons of Heckington, Lincolnshire to build on their success at the International Young Butcher Competition in Imst, Austria next May.
London butcher and NFMFT President Jim Sperring says "competing in Premier Young Butcher is a terrific opportunity and can be a life changing experience for anyone setting out on a career in butchery"!
Premier Young Butcher 2017 is open to ALL 18 – 23 year old butchery apprentices throughout the UK and any apprentice or employer believing they have an apprentice with the necessary skills should contact roger@nfmft.co.uk or go to www.nfmft.co.uk for more information.
Premier Young Butcher 2017 organised by the NFMFT and hosted by Yandell Media is sponsored by AHDB Beef & Lamb, AHDB Pork, Cambrian Training, Dalziel, Institute of Meat, Meat Ipswich, Quality Meat Scotland, RAPS (UK), Weddel Swift and the Worshipful Company of Butchers.