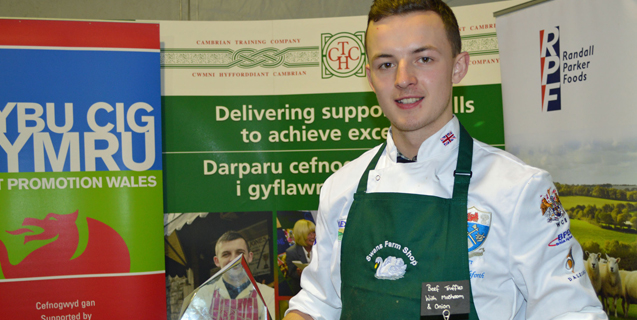 Two competitions to find butchers who are top of the chops in Wales are set to take centre stage at this year's Royal Welsh Winter Fair in Builth Wells in November.
The Welsh Young Butcher Competition is joined again on the busy show programme by the Welsh Pork Butcher Competition, which made a successful debut last year.
Both competitions will be held in the Carcass Hall on Monday, November 28, with the Welsh Young Butcher prize, which is open to competitors under the age of 25 years on January 1, 2016, decided in the morning. The Welsh Pork Butcher contest, which is open to butchers of all ages who currently live or work in Wales, follows in the afternoon.
The Welsh Young Butcher competition is organised by award-winning work-based learning provider Cambrian Training Company, who are also collaborating with Keith Brown, the Royal Welsh Agricultural Society's meat production competitions chief steward, to jointly run the Welsh Pork Butcher contest.
Sponsored by Hybu Cig Cymru (Meat Promotion Wales), the Welsh Young Butcher contest is a stepping stone to UK-wide competitions, with the winner having the opportunity to follow in the footsteps of talented butchers like Matthew Edwards from Vaughan's Family Butchers, Penyffordd, who has represented the UK and last year became the first winner of the Butchery WorldSkills UK National Competition.
Apart from having the kudos of being named Wales' best young butcher, the winner will receive a cheque for £130, while the runner up will receive £70 and all four finalists will receive a trophy.
This year, the young butchers will be challenged to produce a display of meat in two hours from a whole top rump of Welsh Beef, a shoulder of PGI Welsh Lamb, a whole pork belly and a whole chicken.
In the pork butcher competition, which is being sponsored by Cambrian Training Company, butchers will be given two hours to create an innovative and creative display from half a Welsh pig, using either modern or traditional methods and packaging to best promote Welsh Pork to consumers.
Butchers in both contests must choose cuts to maximise saleability and product value, with the judges looking for new, creative ideas, cutting and display techniques, added value, HACCP and personal hygiene and maximum yield from the carcasses.
A panel of judges will select four finalists in each competition from the applications, which must be submitted by Tuesday, November 1. Entry forms may be downloaded at www.cambriantraining.com/competitions.
Pork butcher contest entries must be sent to Rhian Davies either by email: rhian@rwas.co.uk or by post to Welsh Pork Butcher Competition, Royal Welsh Agricultural Society, Llanelwedd, Builth Wells, Powys, LD2 3SY.
Entries for the young butcher contest must be sent to Katy Godsell either by email: katy@cambriantraining.com or by post to: Katy Godsell, Welsh Young Butchers Competition, Cambrian Training Company, The Offices @ Coed Y Dinas, Welshpool, Powys, SY21 8RP.
Arwyn Watkins, Cambrian Training Company's managing director, said: "These two competitions provide the perfect platform for the best butchers in Wales of all ages to showcase their skills at a major event. It's a great honour to be the best in Wales at your chosen vocation.
"I would encourage people visiting the show to come and watch these highly skilled butchers demonstrate their skills and meat display techniques."
Mr Brown said the Welsh Pork Butcher is designed to give butchers of all ages an opportunity to have their skills recognised while at the same time promoting Welsh Pork.
"We are always trying to find new and innovative ways to promote Welsh Pork," he added.
Cambrian Training Company delivers apprenticeships which are funded by the Welsh Government with the support of the European Social Fund.
For more information, please contact Katy Godsell, marketing manager at Cambrian Training Company, on Tel: 01938 555 893, or Duncan Foulkes, public relations adviser, on Tel: 01686 650818.