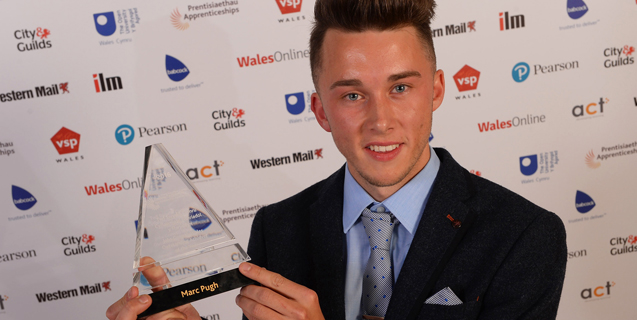 The Welsh Government's Jobs Growth Wales programme has opened the door to a dream career working with horses for Marc Pugh who has collected a prestigious national award for his learning success.
Marc, 20, from Llanfaredd, near Builth Wells, was named Jobs Growth Wales Outstanding Achiever Award at this year's Apprenticeship Awards Cymru, held at Venue Cymru, Llandudno on October 20.
The awards ceremony, held at Venue Cymru, Llandudno, brought together the cream of learners, employers and raining providers across Wales, who have excelled in contributing to the development of the Welsh Government's Traineeships, Jobs Growth Wales and Apprenticeship programmes. The Apprenticeship Programme is funded by the Welsh Government with support from the European Social Fund.
Thirty-three star learners, employers and learning providers involved in the delivery of a range of successful skills programmes across Wales were shortlisted for the prestigious awards, jointly organised by the Welsh Government and the National Training Federation for Wales (NTfW). The awards are sponsored by Pearson PLC and supported by media partner, Media Wales.
Marc has helped expand the business since joining director Nicky van Dijk's team at Happy Horse Retirement Home at Crai, near Brecon where he has been promoted to assistant yard manager.
Such is his commitment to the company, which provides a haven for owners to retire their beloved horses, that he made a 72-mile return journey on Christmas Day and New Year's Day to monitor and nurse sick horses.
The company recruited Marc to develop the business, which has grown 20 per cent in three years. A horse owner since the age of five, he achieved an extended Diploma in Horse Management with a distinction at North Shropshire College's Walford campus before beginning his career.
After achieving a Foundation Apprenticeship in Horse Care and Riding and British Horse Society Riding and Road Safety qualification, Marc was retained and promoted when his Jobs Growth Wales programme ended.
He has progressed to an Apprenticeship in Horse Care and Riding through the Welsh Government's Young Recruits Programme, has achieved the British Horse Society's stage three qualification and aims to become a qualified riding instructor. His learning provider is Cambrian Training Company.
"Being shortlisted for the final was a big achievement and I wasn't expecting to win," said Marc, who has a reputation for staying calm in a crisis. I've achieved goals that I thought I could never do and proved to myself and my parents that I'm focused on my future.
"I would recommend the Jobs Growth Wales programme to everyone. After leaving college, I went out and found a job and luckily I already knew Nicky van Dijk. I haven't looked back since. I now hope to achieve the British Horse Society's stage four qualification and that will open up a few more doors for me."
Wales' Minister for Skills and Science Julie James congratulated Marc, the other award winners and the shortlisted finalists. "We are proud to be delivering a number of successful vocational training programmes with success rates for apprenticeship in Wales remaining well above 80 per cent," she said.
"Developing skilled people is vital for our economy. We have some truly exceptional learners here in Wales and the Apprenticeship Awards Cymru provide a perfect platform for us to celebrate their hard work and achievements. Equally important are the learning providers and employers who go the extra mile to support their learners."
For further information, contact Duncan Foulkes on Tel: 01686 650818 or 07779 785451 or email: duncan.foulkes@btinternet.com or Karen Smith, NTfW communications and marketing manager, on Tel: 02920 495861.
Picture captions:
Marc Pugh with his award.