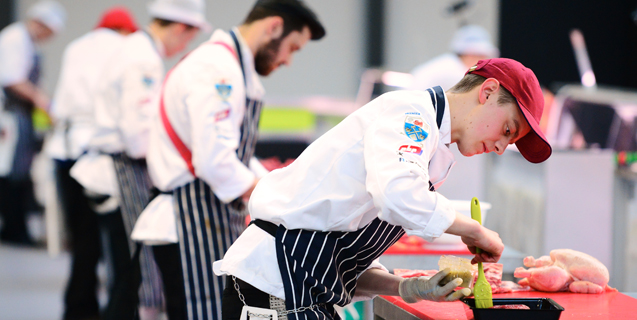 Six of the nation's best young butchers will be competing at the end of this week in the WorldSkills butchery final.
Taking place in Birmingham's NEC on Thursday 17 and Friday 18 November, the competition is designed to enhance apprenticeships and training programmes in the industry. Butchery is just one of more than 60 skills to feature at this year's events.
The six finalists battling it out are:
• Hannah Blakey from Leeds City College.
Blakey, who won the Welsh heat, is both the youngest competitor in this year's competition and the first girl to have made it through to the final.
• Peter Rushforth of Swan Farm Shop, Mold.
Rushforth also qualified in the Welsh heat and will be going into the final fresh off the back of winning Meat Trades Journal's Young Butcher of the Year at the Butcher's Shop of the Year Awards. Last year, he finished joint third in the WorldSkills final. • James Gracey from Quails of Dromore, Co Down.
A returning competitor, Gracey won the Northern Irish heats and also took part in this year's Premier Young Butcher competition. • Dylan Gillespie of Clogher Valley Meats, Co Tyrone.
Gillespie is also a returning competitor to this year's competition, after he finished in joint third place last year. He qualified in the Northern Irish heat.
• Martin Naan from Kettyle Irish Foods, Co Fermanagh.
Naan is the third butcher who got through to the final after his performance in the Northern Irish round. This is his first time competing in Worldskills.
• Daniel Turley of Aubrey Allen, Coventry.
Also new to the competition, Turley is the only butcher who qualified from the English heat.
Over the two-day period, the young butchers will be tasked with a series of challenges. Day one categories include ready to eat; where they will have one-and-a-half hours to produce two identical ready-to-eat products of their choice that demonstrate creativity, consistency and technical ability. One of the products will be cooked, while the other will remain raw to be judged.
The second task for the first day will be the specification sausage-making challenge. This will see the butchers provided with one whole shoulder of pork and ingredients for them to correctly make a set type of sausage. Sausages will be judged raw and cooked and will be marketed on taste, practical working and methodology, mixing, filling, size, shape and consistency. They have one hour to complete this, not including cooking time.
The third and final task of day one will be the barbecue challenge, where contestants will be supplied with a whole chicken, a topside of beef, a leg of lamb and a boneless loin of pork. Competitors will be asked to prepare an aesthetically pleasing barbecue display with clear labels in an hour-and-a-half. All products must be prepared so that they can be barbecued.
The second day will consist of the mystery box challenge, which will see the butchers creating products from a box of unknown meats that are convenient for cooking in a potential customer's home. They will have one hour and 10 minutes for this round.
Task two, the boning and seam butchery and display will require the competitors to bone a top of beef into primal cuts in three hours. They will have access to a larder from which they can choose any other three items to butcher that will enhance their final display.
"It's important for the development of craft butchery that everyone gets behind the six contestants at the WorldSkills (UK) Butchery final this week," said Roger Kelsey, chief executive of the National Federation of Meat & Food Traders, who will be judging the competition alongside industry consultant Viv Harvey and Keith Fisher, chief executive of the Institute of Meat.
"I, for one, am looking forward to seeing a variety of innovative, precise products produced during two days of exciting competition on Thursday and Friday this week," added Kelsey.
The competition is organised by Cambrian Training Company and supported by an industry steering group, with Meat Trades Journal serving as exclusive media partners.
"The competition is a fantastic way to showcase the best of butchery skills across the UK to the next generation on a national live stage at the Skills Show," said Arwyn Watkins, chair and managing director of Cambrian Training.
"It is a privilege to be involved in such a fantastic event, where people from all over the UK get inspired about their future careers. Organising the competition is exciting and it is very rewarding to see the results of all the hard work the competitors have put in, working with all our partners in the industry.
"The reason Cambrian Training Company gets involved in skills competitions is to develop a benchmark, not only for competitors but also for trainers, and our ultimate aim is to get butchery, one of the world's oldest skills, featured as a WorldSkills competition."
Sponsorship partners include ABP, Fridge Rentals, The National Federation of Meat & Food Traders, the Institute of Meat, Hybu Cig Cymru – Meat Promotion Wales, The Food & Drink Training and Education Council and industry consultant Viv Harvey.