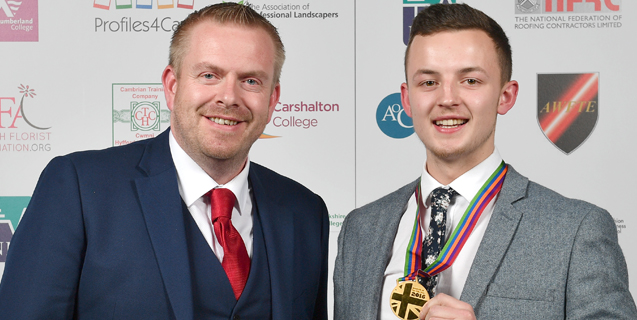 Twenty-one-year-old Peter Rushforth took home the gold medal at the WorldSkills butchery competition on Saturday, 19 November 2016.
The two-day competition, held at Birmingham's NEC, saw Rushforth, who works at Swans Farm Shop in Mold, battle it out against five other butchers from England, Wales and Ireland in five demanding challenges. Day one saw the six finalists take on the ready-to-eat, sausage-making and barbecue categories, followed by the mystery box round and the boning and seaming task on the second day.
"I think it was a very even playing field and everyone was in for a chance, but to have my name on the screen and to get the gold medal, I'm completely chuffed to bits," said Rushforth. "It means a lot."
This is the latest in a stream of successes for the young butcher, after he was named Meat Trades Journal's Young Butcher of the Year at the Butcher's Shop of the Year awards at the beginning of the month.
Dylan Gillespie, from Clogher Valley Meats in Co Tyrone was awarded the silver medal, while Daniel Turley of Aubrey Allen in Coventry finished in bronze position. Also competing were Leeds City College's Hannah Blakey, James Gracey from Quails of Dromore in Co Down and Martin Naan from Kettyle Irish Foods in Co Fermanagh.
"It's very important that we have competitions like this for these young people," said Chris Jones from The Cambrian Training Company, which organised the butchery competition with support from industry steering groups. "It helps them increase their skillset and it helps benchmark the industry for young people, so there are things for them to aspire to. With a competition like this, they see what happened last year and they want to better it, so it helps the skill level get better every year.
"Last year was really good, this year I think they've been slightly better. They're certainly closer together this year than they were last year."
The competition was judged by Roger Kelsey, chief executive of the National Federation of Meat & Food Traders, Keith Fisher, chief executive of the Institute of Meat, and industry consultant Viv Harvey.
Sponsorship partners included ABP, Fridge Rentals, The National Federation of Meat & Food Traders, the Institute of Meat, Hybu Cig Cymru – Meat Promotion Wales, The Food & Drink Training and Educating Council and industry consultant Viv Harvey. Meat Trades Journal was the exclusive media partner.